Metrolines
Publication date: 21.04.2021
Metropolitan lines (metrolines) are a system of ZTM bus connections, which will improve travelling through the Metropolis till the time of Metropolitan Railway construction. They will make the bus offer more attractive by increasing the frequency of journeys, nearlyround-the-clock service, and the introduction of regular departure intervals.
The implementation of metropolitan lines, marked with 'M' letter, commonly referred to as M-s, is divided into three stages, forming one consistent system. Within the first of them, on 8 May 2021, six lines have been started, M1, M2, M3, M4, M18, and M24, which serve big cities, characterised by significant passenger flows. In the next stages the lines integrating Metropolis areas will start, as well as lines, which will bring to and take back from stops of the main M-s (airport AP and M10, M11, M12, M13, M14, M15, M16, M17, M19, M20, M21, M22, M23, M25, M26, M100, M101, M102, M103, M104, M105, M106, M107, and M108*). Such a big change in the network of bus connections in the Metropolis area affects the organisation of the entire network. You can travel by metropolitan lines using the ZTM tickets.
Number of lines: 31.
Number of journeys: on working days: 2236, on Saturdays: 1464, on Sundays: 1367.
Operational work: 19,751,848 vehicle-km/year.
Cost estimate: PLN 144,710,584 per year.
What will be thebenefits related to travelling by metrolines?
Metrolines will go more frequently.
M-s will have extended working hours during the day and at night-time.
They will improve travelling between all GZM municipalities.
It is a cheaper alternative to individual transport.
The choice of 'M' means no problems with parking and a step towards traffic jams reduction.
Choosing the urban transport we take care of the environment - less noise and lower air pollution.
This is an offer with a possibility to improve it by passengers (surveys of the satisfaction level).
Which cities/municipalities will be served by metrolines? All municipalities - GZM members. Overall, there are as many as 41 of them:
Katowice, Chorzów, Świętochłowice, Ruda Śląska, Zabrze, Gliwice, Sosnowiec, Dąbrowa Górnicza, Bytom, Tarnowskie Góry, Tychy, Kobiór, Piekary Śląskie, Wojkowice, Bobrowniki, Mikołów, Łaziska Górne, Wyry, Mysłowice, Zbrosławice, Świerklaniec, Ożarowice, Imielin, Lędziny, Siemianowice Śląskie, Czeladź, Gierałtowice, Mierzęcice, Bojszowy, Bieruń, Psary, Siewierz, Sławków, Sośnicowice, Radzionków, Pilchowice, Knurów, Pyskowice, Rudziniec, and Chełm Śląski.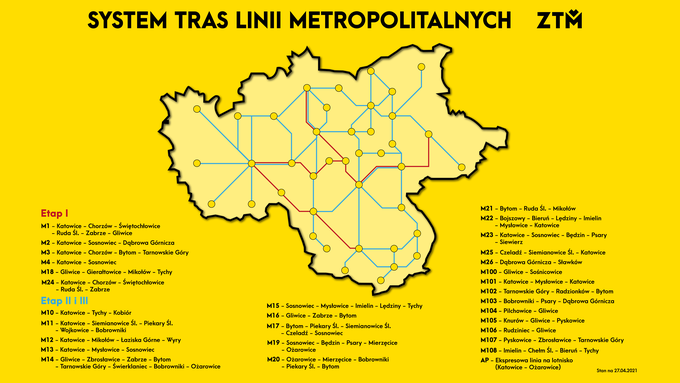 Detailed information on timetables of metrolines started in the first stage is available in the 'Timetables' tab on the ZTM website: M1, M2, M3, M4, M18, and M24.
We encourage to visit our website regularly. The metrolines project will be permanently developing. Because of that you should expect updates of the implemented solutions.