Learn about ZTM
Publication date: 07.04.2021
1. Basic Information
The Metropolitan Transport Authority (ZTM) was established by the Assembly of the Upper-Silesian and Zagłębie Metropolis in November 2017. The merger of urban transport systems, operating so far in the area of Silesia and Zagłębie, into one enterprise caused that in many respects the ZTM is the biggest transport organiser in Poland.
We serve the area of 56 cities and municipalities, connecting the most important centres of the Silesian Voivodeship. Everyday 1500 buses, trams, and trolleybuses under the ZTM logo run in the area of Silesia and Zagłębie. 460 lines serves 7 thousand stops, travelling more than 100 million kilometres a year. Every day we expand our offer and improve the quality of provided services. We are happy that out efforts meet so positive reception from passengers - 92% of persons using our services positively evaluate their standard. Thank you!
Such a big enterprise would not be capable of dynamic development without the most important value for each employer - the staff. We employ approx. 300 persons working with passion and devotion - engineers, analysts, lawyers, and marketing people. In addition, the operators - to whom we order the transport work - employ thousands of employees. Because of all those persons, the residents of the Silesia and Zagłębie have every day access to friendly public transport, which understands their needs. Our efforts to build permanent relationships with employees resulted in 2020 in awarding us the title of a 'Friendly Employer' by the National Employee Trade Union 'Employees Confederation' - which is an exceptional distinction for each organisation.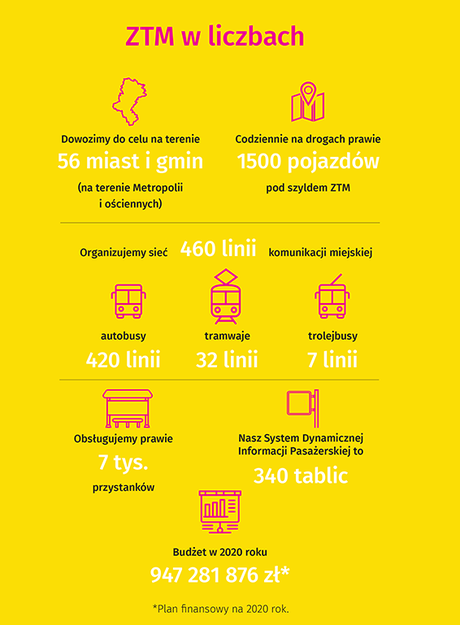 2. Management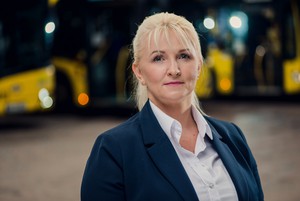 Ms Małgorzata Gutowska
Director of the Metropolitan Transport Authority from February 2019. For more than 25 years she has been related to the transport sector, she held, inter alia, positions of President of the Management Board, General Director, and Operations Director of companies owned by the Veolia Transport, Transdev, and Deutsche Bahn Group. She worked also in the Raben Group companies as the Chief Accountant.

Graduate of management at the WSB University. She is experienced in managing complex organisational structures, also the dispersed ones. She feels very well in crisis situations as well as in such that require restructuring. She is proficient in operational management and in finance management. Already during the first year of ZTM management she effectively carried out the process of three hitherto transport operators integration, she cut the costs of the company operations and also reduced the employment. She initiates and supervises processes that optimise the organisation of public transport in the area of municipalities - members of the Upper Silesian-Zagłębie Metropolis. Under her management the ZTM modernises the business operation standards, implements programmes for staff personal development, building a strong and motivated team, as well as modernises the transport infrastructure and develops services ensuring the top safety standards for transported passengers. She greatly focuses on operations consistent with procedures and professional ethics. As a result of the introduced changes, passengers have great confidence in the ZTM. In 2020, on behalf of the ZTM, she received a 'Friendly Employer' statuette.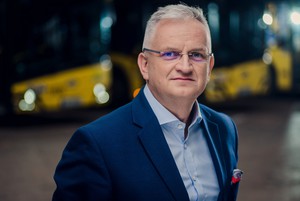 Mr Krzysztof Dzierwa
Deputy Director for Administration in the Metropolitan Transport Authority. From January 2019 he has been managing the operations related to the following Departments: Organisational, Public Procurement and Purchases, and also HR and Payroll. He has implemented a system enabling theoretical and practical preparation of employees to fulfil the duties of public administration officials.

His achievements include improvement in the level of human resources management effectiveness. He has introduced a comprehensive periodical employee assessment, optimised the system of internal training, and also cut the costs of administration operations. He has more than 30 years of experience in team management in the local government sector and in business. Graduate of law and human resources management at the University of Silesia. In addition, he completed courses in the EU funds management at the AGH University of Science and Technology in Krakow and in labour law at the University of Lodz.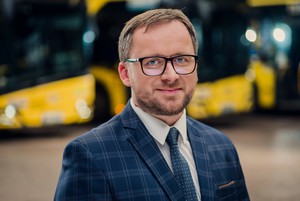 Mr Aleksander Sobota
Deputy Director for Transport in the Metropolitan Transport Authority. Since June 2019 he has been managing the work related to the ensuring the transport service continuity in the area of the Upper Silesian-Zagłębie Metropolis and municipalities, with which agreements have been concluded.

In addition, the Transport Division of the ZTM organises substitute transport, gives opinions on the submitted motions and postulates related to the collective public transport operation in the field of timetables and stop locations. They also work on the optimisation of lines arrangement of the collective public transport organised by the ZTM. In the years 2019-2021 he was managing, among other things, the team involved in the designing of metropolitan lines and the design of Brynów and Zawodzie transfer centres service in Katowice. Moreover, together with a team, he was working e.g. on developing a design of transport service for the Sądowa centre in Katowice, on preparing a concept of transport service of the KSEZ - Gliwice sub-zone, and on other projects, aimed at adapting the transport offer to the needs. He obtained a D.Sc. degree in technical sciences, in the field of civil engineering and transport, at the Warsaw University of Technology. Long-term staff member at the Faculty of Transport and Aviation Engineering, the Silesian University of Technology, with many achievements in the field of cooperation with the industry. Manager or co-author of numerous studies in the field of traffic engineering and transport systems planning.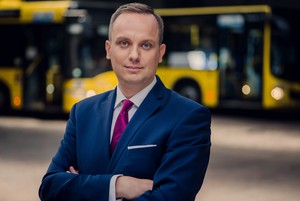 Mr Andrzej Stangret
Deputy Director for Commercial Issues in the ZTM. He has been involved in the ZTM development from 2020. Manager with 15 years of experience. Specialist in the corporate communication and marketing, he was successfully developing also international transport brands (Veolia). He was building the brand of the PGE group - employing more than 42 thousand employees, where he was responsible for creation of new communication and image standards.
Co-founder of the European Forum for New Ideas (EFNI) - a leading sectoral conference, involving representatives of international business. Expert in the field of project management in industry, power sector, public sector, FMCG, pharmacy, and transport. Target oriented MBA graduate, creative and enthusiastic leader, completed PRINCE2 and Agile courses. He is motivated in the work primarily by effective introduction of changes, based on values and modern management. At the Metropolitan Transport Authority he supervises marketing and CSR activities, consistently develops the product offer, B2B market, and carries out digitisation processes of customer service and sales channels.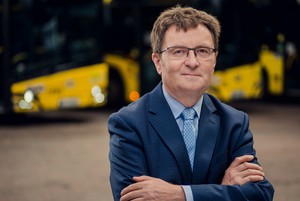 Mr Andrzej Ochman
Deputy Director for Controlling in the Metropolitan Transport Authority. From December 2019 he has been managing the work related e.g. to the analysis of unit's income and expenditure, calculation of variable contributions of GZM municipalities, developing the remuneration rules for transport service operators, developing the plans of internal control, ordering analyses, expert's opinions, and audits.
For 40 years he has been professionally related to transport - he was managing the MZK Tychy operations, and earlier he was working in the WPK Katowice, PKM Tychy, and Tramwaje Śląskie. He participated, inter alia, in the reactivation of the SRK Tychy-Katowice rail connection, together with establishing an integrated orange tariff, in the process of building a system of connections within voivodeship bus lines, and in transforming the Tychy transport companies into internal entities. In 2016 he was awarded a "Person of Merit for Urban Transport" badge by the Chamber of Urban Transport. Graduate of the University of Economics in Katowice and the School of Controlling in Katowice. Completed a postgraduate course in the field of accountancy at the University of Economics.
3. Annual Reports
4. Projekty zrealizowane i w trakcie realizacji
Jesteśmy największym organizatorem transportu zbiorowego w Polsce. To powody do dumy, ale i szereg związanych z tym zobowiązań. Jednym z najważniejszych z nich jest rozwój sieci transportowej. Realizując te zadania przygotowujemy długofalowe projekty usprawniające komunikację miejską. Integrujemy obszar naszej działalności o powierzchni 2,5 tys. km², na którym znajduje się 56 miast i gmin. Dodatkowo, stawiamy na podnoszenie jakości i standardów usług przewozowych, a także rozwój udogodnień w zakresie obsługi klienta.
Linie metropolitalne to projekt unikatowego systemu połączeń autobusowych, oznaczonych literą "M". Jego celem jest usprawnienie podróżowania po Metropolii, czyli na obszarze 41 miast i gmin w województwie śląskim. Prace nad metroliniami rozpoczęliśmy na przełomie marca i kwietnia 2019 roku. Zadaniem tego projektu jest uruchomienie linii obsługujących obszary Metropolii cechujące się dużym zapotrzebowaniem na przewozy lub potrzebą integracji rejonów. Realizacja tego zadania jest możliwa dzięki przeprowadzaniu szerokich i czasochłonnych analiz. W ramach projektu dokonywaliśmy oceny funkcjonowania istniejących linii autobusowych i tramwajowych oraz proponowaliśmy  nowe rozkłady jazdy. Od początku maja 2021 r. pasażerowie mogą korzystać z sześciu uruchomionych linii: M1, M2, M3, M4, M18 i M24, a od 3 lipca mogą dodatkowo podróżować nowymi liniami M22 i M101. Aktualnie trwają prace nad uruchomieniem kolejnych metrolinii.
Plan Zrównoważonego Rozwoju Publicznego Transportu Zbiorowego określa sposób organizacji przewozów o charakterze użyteczności publicznej. W ich planowaniu podstawowym zagadnieniem jest efektywne wykorzystanie dostępnych środków przy zachowaniu możliwie jak najwyższej jakości świadczonych usług. Plan przedstawia wizję rozwoju transportu zbiorowego na obszarze Metropolii do 2035 r. Uwzględniono w nim m.in. następujące założenia: ograniczenie niekorzystnego oddziaływania transportu na środowisko naturalne, poprawę dostępności przez eliminację tzw. barier dostępności, zgodne z oczekiwaniami pasażerów kształtowanie oferty przewozowej oraz jakości świadczonych usług. Prace nad dokumentem trwały od czerwca 2020 r. do marca 2021 r.
Współpraca przy obsłudze komunikacyjnej nowych węzłów przesiadkowych, czyli projektów realizowanych przez takie gminy jak: Katowice, Knurów, Szczygłowice, Pyskowice, Pilchowice, Wojkowice i Czeladź. W ramach konsultacji z samorządami m.in. przygotowywaliśmy projekty rozkładów jazdy i wprowadzaliśmy zmiany na liniach autobusowych i tramwajowych. Dodatkowo przeprowadziliśmy analizę techniczną możliwości drogowych i weryfikowaliśmy wykorzystanie oferty przez pasażerów (na węźle Sądowa w Katowicach). Ponadto analizowaliśmy pozyskane dane z badań frekwencji podróżnych, czy preferencji komunikacyjnych na wybranych liniach (przy węzłach Brynów i Zawodzie w Katowicach). Obecnie współpracujemy przy uruchomieniu kolejnych centrów przesiadkowych na terenie GZM, m.in. w Dąbrowie Górniczej, Gliwicach, Psarach i Sośnicowicach.
Pozostałe projekty usprawniające system transportowy ZTM:


przygotowanie metody analizy danych z badań dotyczących popularności poszczególnych przystanków i odcinków tras. Zbierane informacje są wykorzystywane podczas analiz i przygotowywania projektów linii komunikacyjnych;
optymalizacja sieci połączeń m.in. w Tychach, Gliwicach, Katowicach, Zabrzu, Mikołowie, Łaziskach Górnych, Mysłowicach, Imielinie, Chorzowie, Sosnowcu, Piekarach Śląskich, Będzinie, Dąbrowie Górniczej, Psarach, Bieruniu, Czeladzi, Toszku, Wielowsi, Twarogu, Knurowie, Pyskowicach, Gierałtowicach, Ornotowicach, Orzeszu, Knurowie, Pilchowicach oraz Sławkowie. Modyfikacje polegały na dostosowywaniu tras, weryfikacji czasów przejazdów, poprawie dostępności do komunikacji oraz uruchomieniu nowych linii. Ponadto, tworzyliśmy nowe przystanki i poprawialiśmy czytelność rozkładów jazdy;
optymalizacja sieci połączeń linii tramwajowych, która polegała na dostosowaniu oferty przewozowej do zmieniających się potrzeb pasażerów i zwiększaniu efektywności wykorzystywania taboru, w tym niskopodłogowego. Celem było również lepsze skomunikowanie miast, poszczególnych dzielnic i zwiększenie przejrzystości siatki połączeń. W 2020 r. modyfikowaliśmy sieć tramwajową w Zabrzu i Zagłębiu Dąbrowskim;
przygotowanie koncepcji obsługi komunikacyjnej obszaru KSSE–podstrefa Gliwicka, w ramach której oszacowaliśmy wielkości potencjalnych potoków pasażerskich, pozyskaliśmy informacje o preferencjach komunikacyjnych i określiliśmy potrzeby przewozowe. Przy wprowadzanych zmianach wykorzystaliśmy specjalne oprogramowanie do makroskopowego modelowania ruchu oraz rozkład przestrzenny podróży pomiędzy obszarami;
aktualnie pracujemy nad pomiarami odległości międzyprzystankowych, aktualizacji modelu transportowego, wdrożenia nowego modelu organizowania rynku usług przewozowych w Metropolii. Wdrażamy także usprawnienia oprogramowania do tworzenia rozkładów jazdy oraz prowadzimy dalsze prace nad usprawnieniem sieci.

Projekty związane z podnoszeniem jakości i standardów usług przewozowych, udogodnień w zakresie obsługi klienta oraz integracji 2,5 tys. km² obszaru:

trwa proces ujednolicania wyglądu 7 tys. przystanków (dotychczas dokonano ich inwentaryzacji) oraz zapowiedzi głosowych w ponad 1500 pojazdach;
wypracowanie z wybranym zleceniobiorcą Systemu Informacji Wizualnej;
efektywne zarządzanie komunikacją miejską dzięki uruchomieniu Centrum Zarządzania Ruchem;
wypracowanie jednolitych i szczegółowych wytycznych dla wszystkich pojazdów kursujących pod szyldem ZTM;
przeprowadzanie regularnych kontroli operatorów, stawianie im wymagań operatorom i ich egzekwowanie w zakresie realizacji m.in. zadań,  personelu, estetyki i oznakowania pojazdów. W 2020 r. liczba kontroli pojazdów wyniosła aż 41 360. Część z nich prowadzona jest wspólnie z Inspekcją Transportu Drogowego i Policją;
przeprowadzanie procesu transformacji cyfrowej polegającego m.in. na:
a) rozwijaniu Systemu Dynamicznej Informacji Pasażerskiej, czyli tablic informacyjnych, które są umieszczane na przystankach (obecnie jest ich 340, a docelowo będzie aż 550). Dzięki tablicom pasażerowie m.in. widzą rzeczywisty czas odjazdu pojazdów z przystanków, mogą zapoznać się z istotnymi komunikatami na temat komunikacji miejskiej czy informacjami o jakości powietrza;
b) wprowadzaniu nowoczesnych kanałów sprzedaży i rozwiązań w obszarze obsługi klienta – w tym zakresie m.in. rozszerzyliśmy listę funkcjonalności Punktów Obsługi, uruchomiliśmy e-POP, wprowadziliśmy możliwość wysyłki kart ŚKUP pod wskazany adres, umożliwiliśmy dokonywanie płatności kartą w autobusach, zwiększyliśmy funkcjonalność aplikacji "Mobilny ŚKUP", wydłużyliśmy godziny pracy infolinii i założyliśmy profil ZTM Alert na Facebooku.