Filmy, bezpłatne przejazdy i mobilne stoisko. ZTM zaprasza na Europejski Tydzień Zrównoważonego Transportu
Publication date: 17.09.2020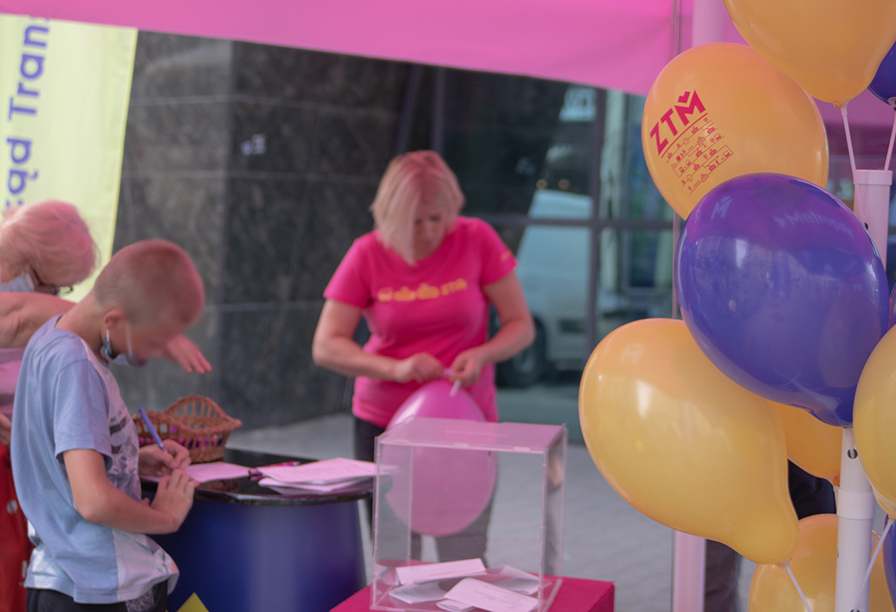 Blisko 50 krajów z całego świata, ponad 2400 miast i wspólne cele – zachęcanie do korzystania z komunikacji miejskiej oraz kształtowanie ekologicznych postaw wśród użytkowników transportu. Zarząd Transportu Metropolitalnego po raz drugi dołącza do Europejskiego Tygodnia Zrównoważonego Transportu, który w tym roku – ze względu na pandemię koronawirusa – przybrał nieco inną formę.
Cel akcji 
Europejski Tydzień Zrównoważonego Transportu to coroczna kampania organizowana przez Komisję Europejską, trwająca już od ponad 15 lat. Celem akcji jest zwrócenie uwagi na problem wzrostu emisji dwutlenku węgla, a także zatorów komunikacyjnych, które w zdecydowany sposób wpływają na pogorszenie stanu środowiska. Chodzi o to, aby zachęcić jak największą liczbę osób do korzystania z alternatywnych możliwości przemieszczania się, m.in. przy wykorzystaniu transportu publicznego, a także o tworzenie miast bardziej przyjaznych mieszkańcom. To przede wszystkim czas, w którym podejmuje się liczne dyskusje na temat różnych aspektów mobilności, jakości powietrza oraz promocji komunikacji miejskiej.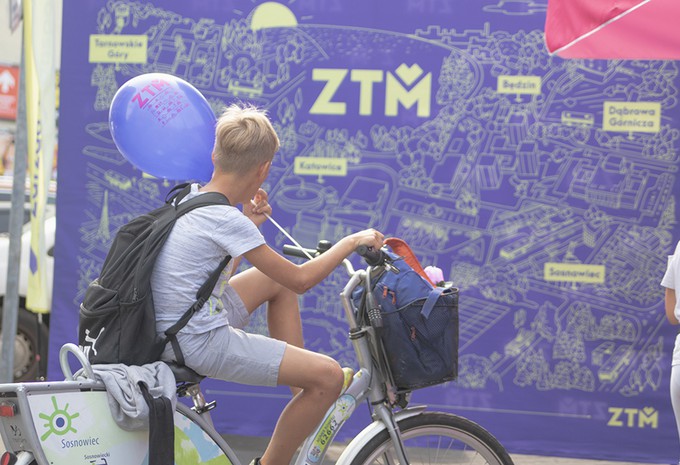 Walka o czyste środowisko 
ETZT to świetna okazja do tego, aby ZTM mógł zaprezentować podejmowane działania oraz plany w ramach walki o czyste środowisko. Wystarczy tylko wspomnieć, że operatorzy ZTM kupują elektryczne i zasilane gazem ziemnym autobusy. W zeszłym roku rozwinięto sieć trolejbusową poprzez wydłużenie jednej z tras oraz stworzenie nowej linii. We współpracy ze spółką Tramwaje Śląskie oraz miastami Metropolii planowany jest także rozwój sieci tramwajowej, m.in. w Katowicach oraz Sosnowcu. Na ulicach Górnośląsko-Zagłębiowskiej Metropolii pojawia się coraz więcej ekologicznych pojazdów spełniających normę EURO6, które gwarantują niską emisję zanieczyszczeń do atmosfery. Oprócz tego dzięki specjalnym aplikacjom pasażerowie już nie muszą kupować tradycyjnych papierowych biletów. To przede wszystkim wygoda, zaoszczędzony czas i pieniądze – elektroniczne bilety jednorazowe są bowiem tańsze od swoich papierowych odpowiedników – ale także sposób na ochronę środowiska naturalnego.
Co nowego 
Tegoroczna edycja Europejskiego Tygodnia Zrównoważonego Transportu w wydaniu ZTM odbywa się w nieco innej niż dotychczas formie. Część atrakcji dostępna jest w świecie wirtualnym. – W ubiegłym roku w naszej siedzibie gościliśmy setki dzieci. W tym roku to my odwiedzamy naszych pasażerów i miłośników – w ich domach, na ekranach komputerów. Przygotowaliśmy 4 filmy, które opowiadają o nas jako o jednym z największych organizatorów komunikacji miejskiej w Polsce. Pierwszy materiał wideo został już opublikowany na profilu ZTM na Facebooku. Prezentuje on podstawowe informacje o metropolitalnym organizatorze transportu, wskazuje m.in. ilu jest pasażerów, ile pojazdów oraz na jakim obszarze działa. Kolejne filmy będą udostępniane w trakcie trwania ETZT i będą przedstawiać m.in. proces tworzenia rozkładów jazdy i zarządzania ruchem, optymalizację siatki połączeń i formy komunikacji z pasażerem.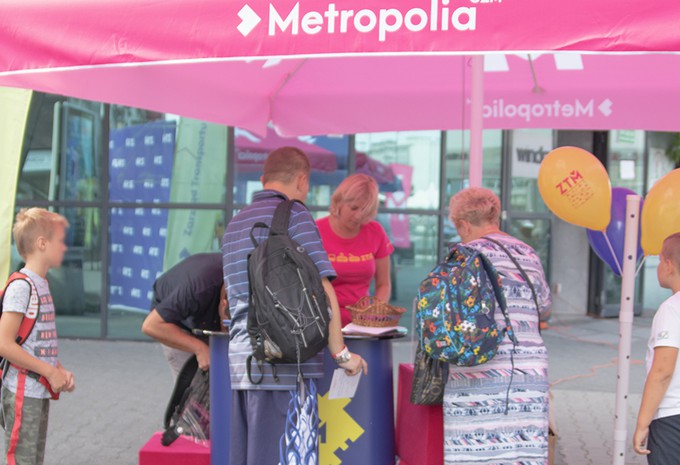 W ramach akcji podejmowane są również inne działania. W wybranych punktach 7 miast na terenie Górnośląsko-Zagłębiowskiej Metropolii pojawiają się specjalne stoiska, stworzone z myślą o pasażerach i wszystkich miłośnikach transportu. Na miejscu są pracownicy ZTM i GZM, którzy z przyjemnością odpowiedzą na wszystkie pytania związane z transportem publicznym. W każdym punkcie jest również mobilna stacja serwisu rowerów, w której każdy mieszkaniec może skorzystać nieodpłatnie z pomocy specjalistów, którzy zajmują się między innymi kontrolą stanu technicznego roweru, smarowaniem łańcucha, regulacją hamulców, regulacją przerzutek. Najmłodsi mogą wziąć udział w warsztatach z zakresu bezpieczeństwa na drodze i pierwszej pomocy. Spotkania odbywają się codziennie od 16 do 22 września w godzinach 15:00-19:00. Pierwsze miało miejsce w Sosnowcu w pobliżu pomnika Kiepury (16 września). W stolicy Zagłębia stoisko odwiedziły osoby w różnym wieku – zarówno kilkuletnie dzieci, jak i seniorzy. Goście chętnie wypełniali ankiety dot. transportu publicznego i zadawali pytania związane m.in. z ofertą biletową i siatką połączeń. Dziś (17 września) stoisko zostanie zlokalizowane w Świętochłowicach na placu przy kościele Świętych Apostołów Piotra i Pawła przy ul. Kubiny. W kolejnych dniach z pracownikami ZTM i GZM będzie się można spotkać w Knurowie za przystankiem Knurów Wojska Polskiego (18 września), Gliwicach w CH Arena przy al. Nowaka-Jeziorańskiego (19 września), Tychach przy pl. Baczyńskiego (20 września), Katowicach na placu przed Dworcem PKP (21 września) oraz Bytomiu przy ul. Dworcowej (22 września).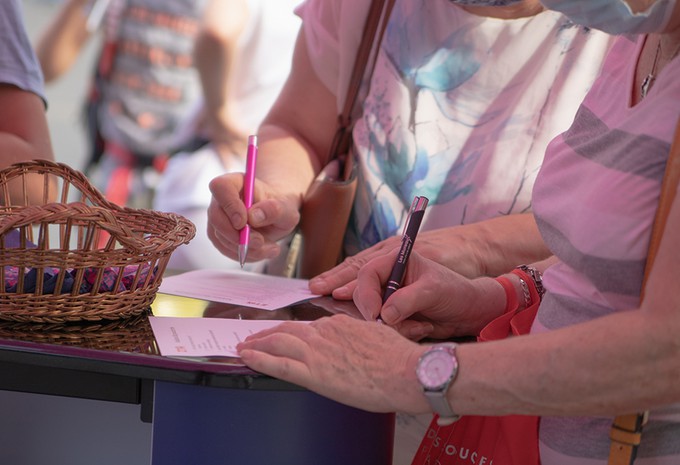 22 września zwieńczenie ETZT 
22 września to ostatni dzień Europejskiego Tygodnia Zrównoważonego Transportu. Z tej okazji każdy zainteresowany będzie mógł w tym dniu bezpłatnie korzystać z komunikacji miejskiej ZTM. Wystarczy podczas kontroli biletów okazać ważny dowód rejestracyjny.
News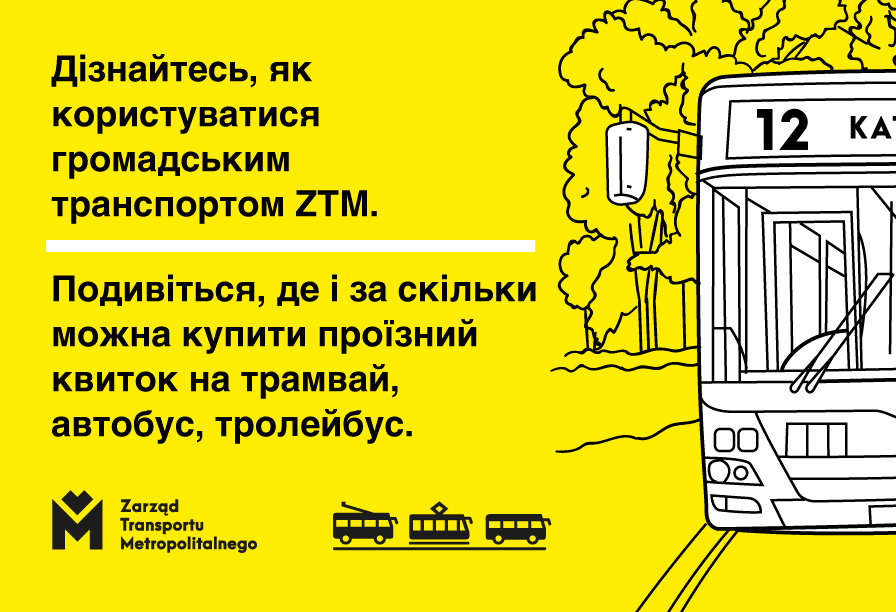 The possibility to use the urban public transport for free for citizens of Ukraine, who crossed the border in February, ends on the 31st of May. Already now we suggest, where you can buy a ticket and how to use the urban transport of the Metropolitan Transport Authority (ZTM).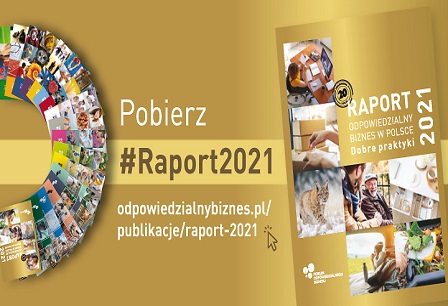 The première of the report 'Responsible Business in Poland. Best Practice' took place during the CSR Fair, organised by the Responsible Business Forum. This is the largest in Poland review of sustainable development initiatives. As many as 6 ZTM practices qualified to it.