Kolejne tablice SDIP służą pasażerom
Publication date: 28.10.2020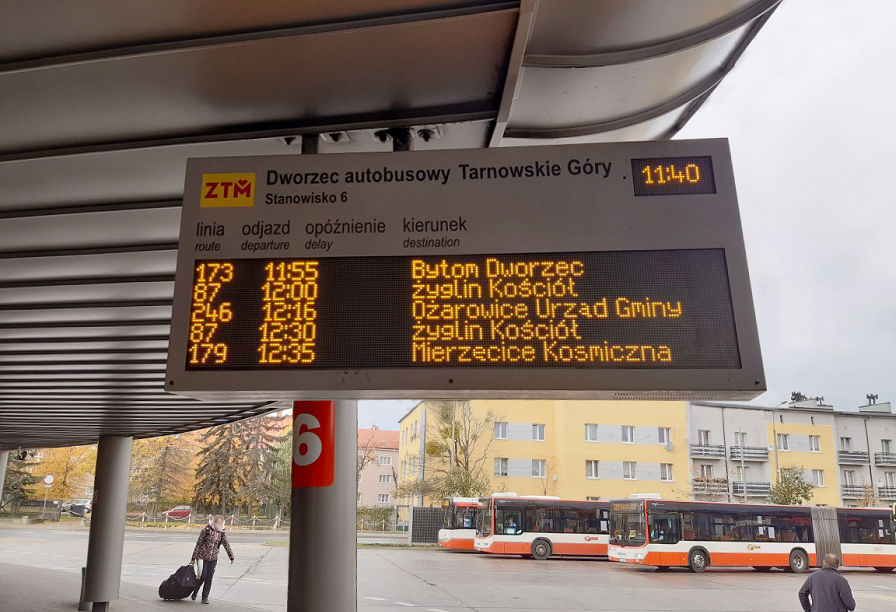 Trwa rozbudowa Systemu Dynamicznej Informacji Pasażerskiej. Na kolejnych przystankach pojawiają się nowe tablice elektroniczne, a część dotychczas nieużywanych urządzeń, głównie z Tarnowskich Gór, podłączona została do systemu. Na finiszu są również prace nad nowym portalem pasażera.
W środę 28 października rozpoczęły się odbiory techniczne 30 nowych tablic elektronicznych. Zostały one zamontowane na przystankach w Gliwicach (Gliwice Rybnicka, Gliwice Nowy Świat, Łabędy Osiedle, Sośnica Apteka, Gliwice Żurawia), Rudzie Śląskiej (Nowy Bytom Urząd Miasta) oraz Bytomiu (Bytom Dworzec, Stroszek Osiedle) i Zabrzu (Zabrze Goethego). Większość z nich posłuży do informowania o odjazdach na dworcach autobusowych w dwóch ostatnich wyżej wymienionych miastach. W tych lokalizacjach, w jako pierwszych w całej Metropolii, pojawiły się również większe, zbiorcze tablice. Będą na nich prezentowane godziny odjazdów ze wszystkich dworcowych stanowisk.
Kończą się również prace nad przyłączeniem starszych tablic do nowego systemu. W ramach prac podłączone zostały 72 tablice zamontowane w ramach projektu SDIP I, a także finalizowane są pracy przy tablicach na Dworcu w Tarnowskich Górach, które po okresie przerwy znów będą informowały pasażerów o rzeczywistym czasie odjazdu autobusów. Tablice te były tymczasowo wyłączone, ze względu na fakt, że systemy poprzednich organizatorów transportu nie były ze sobą kompatybilne. Prace techniczne zostały już zakończone, jednak testujemy, czy działają one poprawnie i wprowadzamy modyfikacje systemowe. Dlatego też prosimy o zgłaszanie zauważonych zaburzeń w ich pracy.
Na ukończeniu są również prace nad nowym, internetowym portalem pasażera. W najbliższych dniach planowane jest jego pełne uruchomienie, a teraz zbieramy opinie na temat udostępnionej wersji testowej. Można je przesyłać mailem na adres kancelaria@metropoliaztm.pl, tytułując go "Portal Pasażera".
News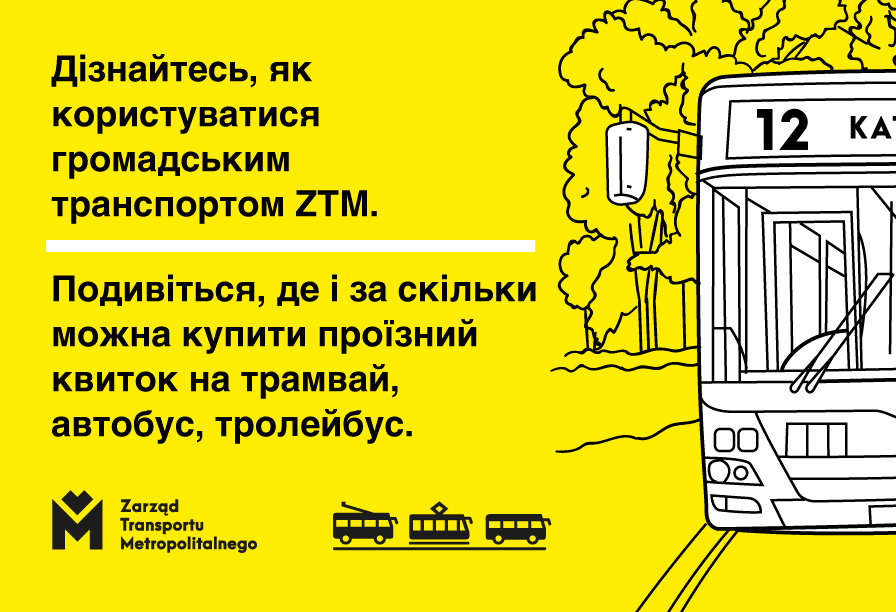 The possibility to use the urban public transport for free for citizens of Ukraine, who crossed the border in February, ends on the 31st of May. Already now we suggest, where you can buy a ticket and how to use the urban transport of the Metropolitan Transport Authority (ZTM).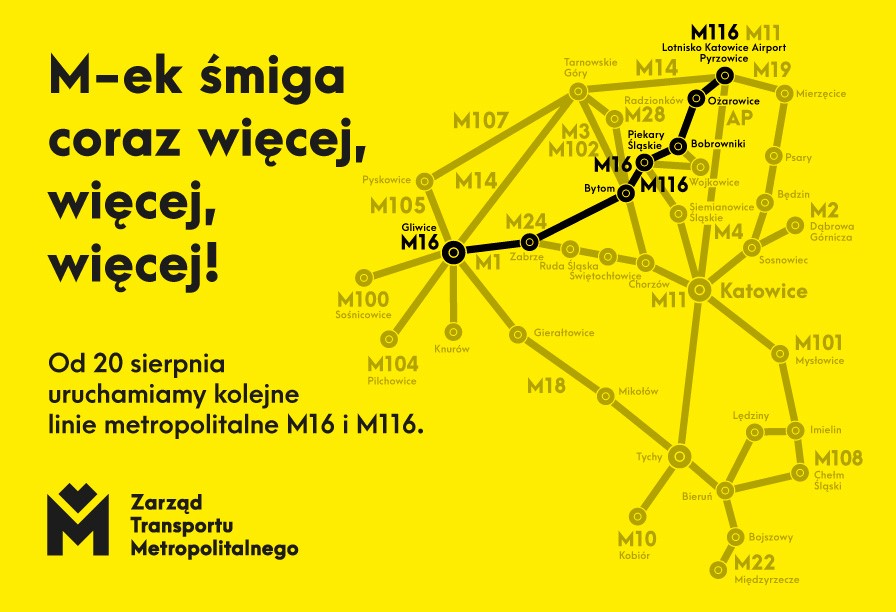 On the 20th of August buses of a new metropolitan line will appear on the Metropolis streets. Line M16/M116 will connect Gliwice and Zabrze with Bytom, Piekary Śląskie, municipality of Bobrowniki, and the Airport in Pyrzowice. The line will be operating all the week and round-the-clock.