Nowy system kupowania biletów
Publication date: 23.01.2019
W styczniu pilotażowo uruchomiona została możliwość zakupu wybranych biletów komunikacji publicznej w kasownikach, bezpośrednio w pojeździe i zapłaty za nie bankową kartą płatniczą. Pilotaż rozpoczął się 23 stycznia na dwóch wybranych liniach, tj. autobusowej nr 297 oraz tramwajowej nr 14. Do końca stycznia system będzie uruchomiony wyłącznie w trzech pojazdach – dwóch na liniach nr 297 i jednym na linii nr 14. W tym czasie system będzie testowany przez pracowników ZTM, ale również będzie on dostępny dla wszystkich pasażerów. Po tym czasie planowane jest uruchomienie systemu we wszystkich pojazdach obsługujących obie linie. Zachęcamy wszystkich pasażerów do korzystania z nowego systemu i przesyłania nam swoich uwag na adres: kancelaria@metropoliaztm.pl.
Operatorem systemu jest Mennica Polska SA, która wyłoniona została w drodze przetargu. Wprowadzenie tego rozwiązania na dwóch wybranych liniach jest wstępem do dalszych prac związanych z jego rozwojem. Docelowo planuje się, aby możliwość zapłaty kartą bankową sukcesywnie rozszerzać na całą komunikację obsługiwaną przez Zarząd Transportu Metropolitalnego.
Jak korzystać z systemu?
Pojazdy obsługujące obie linie wyposażone zostały w specjalne czytniki, w których będzie można kupować bilety krótkookresowe (jednorazowe) w taryfie strefowo-czasowej. Aby kupić bilet, będzie należało wybrać przycisk odpowiadający taryfie dla "biletów strefowo-czasowych", a następnie aplikacja kasownika przełączy użytkownika do dalszej ścieżki postępowania. Po wyborze odpowiedniego biletu należało będzie przyłożyć do czytnika kartę – opłata zostanie pobrana zbliżeniowo. Bilety będą miały formę wyłącznie elektroniczną – bez papierowego wydruku oraz potwierdzenia transakcji. Klient będzie mógł kupić dowolną liczbę biletów. Bilety będą mogły być kupowane wyłącznie na aktualny przejazd (nie da się ich kupić na zapas). Niestety, w przypadku biletów strefowo-czasowych w ramach pilotażu nie będzie możliwości wykonania przesiadki na inny pojazd.
Jak kupić bilet?
Na dotykowym ekranie kasownika zlokalizowanym w pojeździe należy wybrać interesujący nas bilet w taryfie strefowo-czasowej poprzez kliknięcie w ikonę. Aplikacja kasownika przełączy nas do kolejnej ścieżki postępowania, gdzie po przyłożeniu karty płatniczej w wyznaczone pole opłata za przejazd zostanie pobrana zbliżeniowo. Potwierdzenie zakupu biletu zostanie zasygnalizowane odpowienim komunikatem.
W przypadku chęci zakupu kolejnego biletu konieczne jest powtórzenie operacji od początku. Zakup biletu jest równoznaczny z jego skasowaniem, co oznacza, że nie można kupić biletu "na zapas".
Bilety zakupione za pomocą karty płatniczej będą miały formę wyłącznie elektroniczną – bez papierowego wydruku oraz potwierdzenia transakcji.
Jak sprawdzić czy bilet został zakupiony prawidłowo?
Na ekranie głównym kasownika po wybraniu ikony "Sprawdź bilet" oraz przyłożeniu karty płatniczej do wyznaczonego pola pojawi się lista zakupionych/ważnych biletów obowiązujących w danym pojeździe.
W czytniku będzie możliwość sprawdzenia jaki bilet został kupiony, na jakiej linii, w jakiej gminie i kiedy wykonano transakcję.  Ważność zakupionego biletu sprawdzić również będzie można podczas kontroli biletowej.
Czy system jest bezpieczny?
Bezpieczeństwo systemu OPS gwarantuje Mennica Polska S.A. Dane kart płatniczych są zaszyfrowane oraz całkowicie bezpieczne.  Kontroler nie będzie miał dostępu do żadnych innych danych zawartych na karcie, oprócz zakupionego biletu.
System poboru opłat za pomocą kart płatniczych został sprawdzony już w kilku dużych miastach w Polsce.
Kontrola biletowa
Kontrolerzy wyposażeni będą w specjalne urządzenia kontrolerskie służące do weryfikacji ważności kupionych bezpośrednio w kasowniku biletów. W przypadku kontroli pasażer proszony będzie o przyłożenie swojej karty płatniczej do urządzenia, na którym wyświetli się informacja o kupionych biletach. Kontrolerzy mają również możliwość sprawdzenia ważności biletów w kasowniku w pojeździe – po przyłożeniu karty przez pasażera do czytnika.
W przypadku korzystania z biletu ulgowego, należy pokazać kontrolującemu uprawniający do zniżki dokument.
Kontrolerzy ZTM posiadać będą legitymacje kontrolerskie umieszczone w widocznym miejscu.
Gdzie można zgłosić reklamacje oraz wątpliwości co do działania systemu?
Wszelkie reklamacje związane np. z niewłaściwym pobraniem opłaty za przejazd zgłosić będzie można bezpośrednio w Punkcie Obsługi Pasażera ZTM (POP).
Wizyta w POP jest konieczna dla przeprowadzenia postępowania reklamacyjnego, ponieważ konieczny jest kontakt karty płatniczej z czytnikiem zlokalizowanym na stanowisku POP.
Pracownicy POP wprowadzają reklamacje bezpośrednio do systemu reklamacyjnego Mennicy Polskiej S.A. Każda reklamacja rozpatrywana jest bezpośrednio przez jednostkę Mennicy Polskiej S.A.
Natomiast wszelkie uwagi/ zapytania  kierować można na adres kancelaryjny ZTM: kancelaria@metropoliaztm.pl lub pod numerem infolinii: +48 22 583 91 02 umieszczonym na każdym kasowniku OPS.
News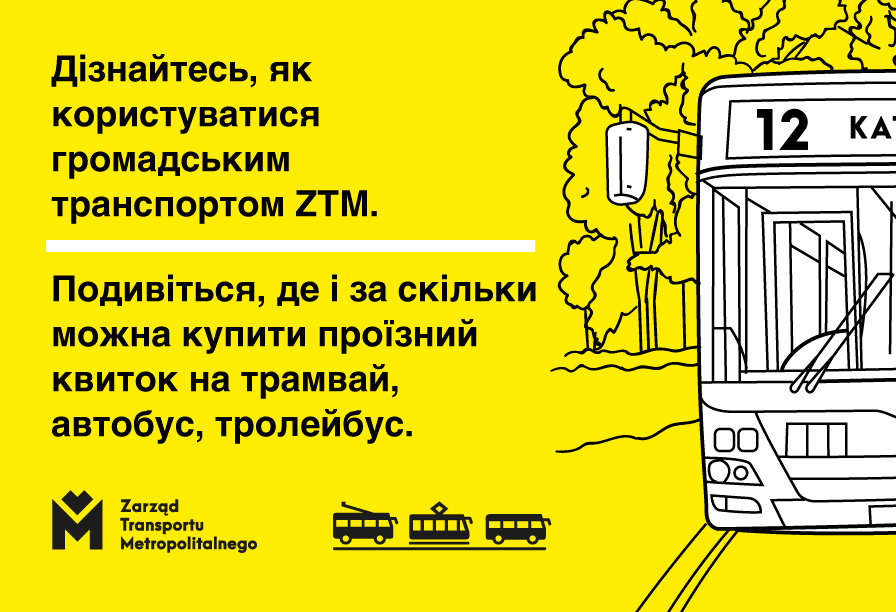 The possibility to use the urban public transport for free for citizens of Ukraine, who crossed the border in February, ends on the 31st of May. Already now we suggest, where you can buy a ticket and how to use the urban transport of the Metropolitan Transport Authority (ZTM).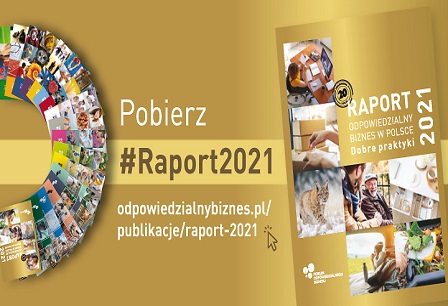 The première of the report 'Responsible Business in Poland. Best Practice' took place during the CSR Fair, organised by the Responsible Business Forum. This is the largest in Poland review of sustainable development initiatives. As many as 6 ZTM practices qualified to it.