O trzech centrach przesiadkowych w Katowicach
Publication date: 07.12.2020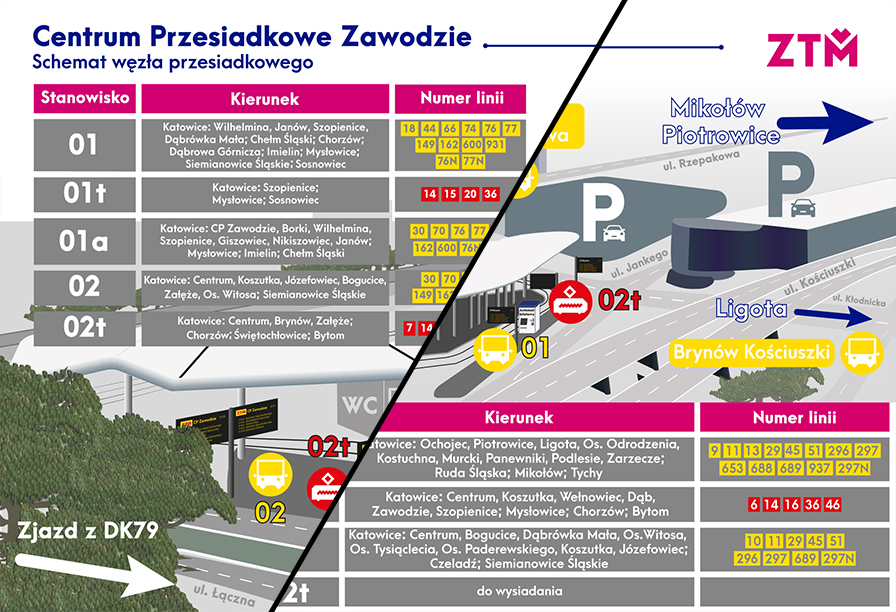 Miasto Katowice otwiera centra przesiadkowe - dziś (7 grudnia) na Zawodziu, a jutro (8 grudnia) na Brynowie. Zmianie ulega jednocześnie obsługa przystanku w Katowice Sądowa. Pasażerowie korzystający z linii autobusowych i tramwajowych przebiegających przez te lokalizacje powinni zapoznać się z licznymi modyfikacjami rozkładów jazdy.
7 grudnia otwarte zostanie Centrum Przesiadkowe Zawodzie. Wiąże się to z wdrożeniem wcześniej zapowiedzianych zmian w rozkładach jazdy. Modyfikacjami objęte zostają linie autobusowe nr 18, 30, 44, 66, 70, 74, 76, 76N, 77, 77N, 149, 162, 600 i 931 oraz tramwajowe nr 7, 14, 15, 20, 23 i 36.
Jako trzecie w ostatnim czasie (po CP Sądowa i CP Zawodzie) otwarte zostanie Centrum Przesiadkowe Brynów. Oddanie do użytku Pasażerom tej inwestycji wiąże się z wprowadzeniem modyfikacji w rozkładach jazdy linii autobusowych nr 9, 10, 11, 13, 29, 45, 51, 296, 297, 297N, 653, 688, 689 i 937 oraz tramwajowych nr 6, 14, 16, 36 i 46.
Zarówno w przypadku CP Zawodzie, jak i CP Brynów jest to pierwszy etap uruchamiania obsługi tych lokalizacji. Kolejne fazy będą wdrażane po przeprowadzeniu obserwacji zachowań Podróżnych oraz po uzgodnieniach z Miastem Katowice.
Na 8 grudnia zaplanowano także zmiany w obsłudze przystanku, który jest zlokalizowany przy Centrum Przesiadkowym Sądowa. Do jego obsługi skierowane zostaną linie autobusowe nr 9, 10, 48, 297, 297N, 632, 911 oraz 940. Przypominamy, że podróż na odcinku Katowice Sądowa - Katowice Dworzec i Katowice Dworzec - Katowice Sądowa liniami kończącymi lub rozpoczynającymi trasę na przystanku Katowice Dworzec lub Katowice Sądowa jest bezpłatna.
Ze szczegółowymi informacjami można zapoznać się w załączonych grafikach oraz komunikatach, które poświęcone są poszczególnym centrom przesiadkowym. Są one dostępne w zakładce Komunikaty na stronie internetowej ZTM.