"Otwieramy szeroko drzwi na powrót normalności" – aktywnie zachęcamy do komunikacji miejskiej
Publication date: 06.07.2021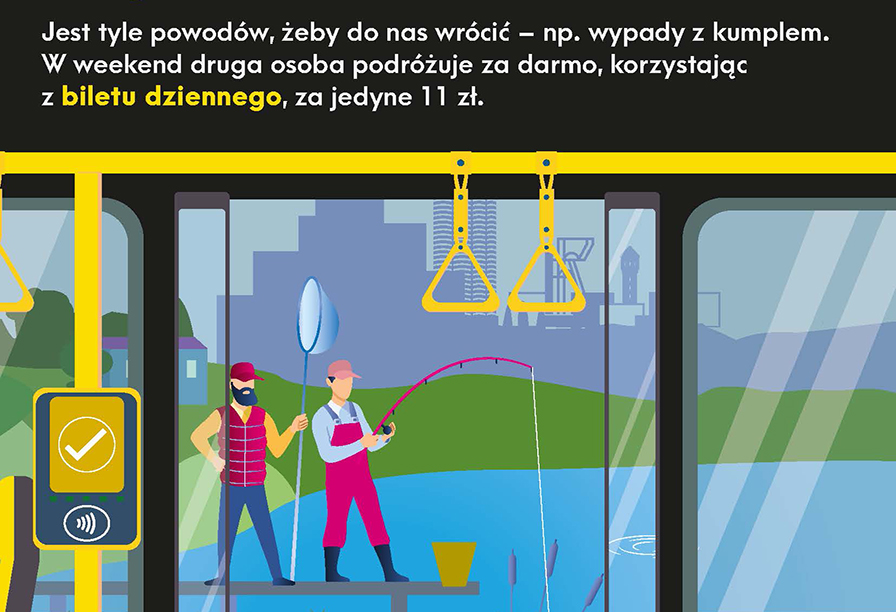 Ruszyła nasza kampania zachęcająca do powrotu do komunikacji miejskiej, w której aktywnie przypominamy, dlaczego warto korzystać z transportu zbiorowego. Kampania objęła przede wszystkim media społecznościowe, w dalszej kolejności wsparta zostanie mediami tradycyjnymi.
W 2020 r. wydaliśmy ok. 5 mln na środki dezynfekujące, zamieściliśmy prawie 200 tys. plakatów informujących o wprowadzanych obostrzeniach, dostosowywaliśmy kursy czy zwiększaliśmy pojemność taboru. Wymienione działania to tylko część spośród wszystkich realizowanych na rzecz bezpieczeństwa pasażerów. W kampanii "#Dbajmy-o-siebie-nawzajem" wchodziliśmy w emocjonalny dialog z pasażerami pokazując skalę i zakres podjętych rozwiązań, np. "My zużywamy ponad 23 litrów płynu do dezynfekcji miesięcznie. Ty myj lub dezynfekuj ręce po każdym przejeździe".
Tym razem, w ramach najnowszej kampanii "#Otwieramy szeroko drzwi na powrót normalności" zachęcamy do powrotu do komunikacji miejskiej, promujemy także nowe rozwiązania zawarte w ofercie. W kwietniu br. wprowadzona została zmodyfikowana taryfa, obejmująca m.in. nowe rodzaje biletów, w tym specjalny – półroczny, którego atrakcyjna cena w przeliczeniu na miesiąc to nieco ponad 90 zł (bilet 30-dniowy, kupowany co miesiąc to 159 zł).
Na kampanię składają się przede wszystkim akcje digitalowe, głównie w mediach społecznościowych, w których umieszczamy specjalne posty z grafikami. Materiały korespondują z przekazem kampanii. Zależy nam, żeby po okresie pandemii, w którym odnotowaliśmy duże spadki frekwencji nasi odbiorcy przypomnieli sobie teraz, jakie bilety oferujemy i jak można aktywnie spędzać czas, przy wykorzystaniu komunikacji miejskiej. Mało tego, w mediach społecznościowych prowadzony jest konkurs, w którym użytkownicy chętnie wypowiadają się o swoich sposobach na ciekawe spędzanie czasu w pojazdach komunikacji miejskiej. Uzupełnieniem komunikacji elektronicznej są kanały tradycyjne, dzięki którym docieramy do tych osób, które nie korzystają z mediów elektronicznych. Wszystkie elementy kampanii są wzmocnione działaniami z zakresu media relations.
Kampania zaczęła się w dniu rozpoczęcia wakacji szkolnych i potrwa do września.
Przykłady layoutu kampanii można znaleźć w załącznikach obok.