Poznaj Tramwaje Śląskie od środka – dzień otwarty w zajezdni
Publication date: 19.09.2019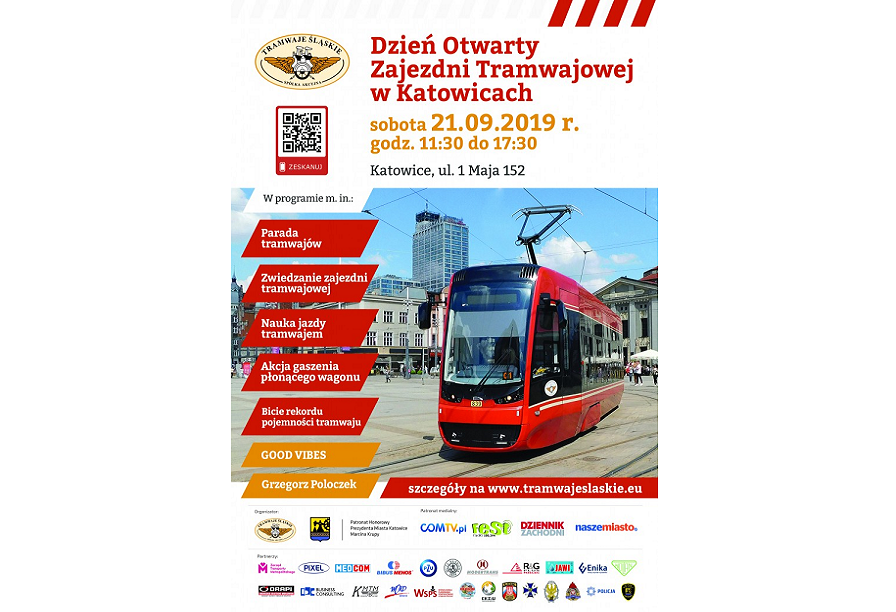 Europejski Tydzień Zrównoważonego Transportu trwa. Obchodzone corocznie święto to lekcja nowoczesnego podejścia do mobilności, ekologii i świadomości obywatelskiej. To nauka przez zabawę i okres debaty nad funkcjonowaniem dzisiejszego transportu. Przez kilka dni na terenie Górnośląsko-Zagłębiowskiej Metropolii odbywa się szereg imprez towarzyszących. Na swoje podwórko zapraszają również Tramwaje Śląskie.
Jak co roku we wrześniu, Tramwaje Śląskie otwierają swoje podwoje dla zwiedzających. Tym razem, na Dzień Otwarty zapraszają do Zajezdni Tramwajowej Zawodzie w Katowicach. Rozpocznie się on w sobotę 21 września, przy ul. 1 Maja 152 o godz. 11:30.
Planowana impreza to dobra okazja do zabawy dla całej rodziny. Podczas Dnia Otwartego będzie można m. in. zwiedzić zajezdnię, tabor tramwajowy, w tym także podwozie i aparaturę dachową, czy odbyć lekcję nauki jazdy. Zostanie również zaprezentowana bogata historia tramwajów na Śląsku, przy czym warto wspomnieć, że tegoroczny Dzień przypada w 125. rocznicę uruchomienia pierwszej linii tramwajów parowych w regionie. Ponadto odbędą się gry, zabawy i konkursy dla dzieci. Imprezę uświetnią występy artystyczne Orkiestry Dętej Tramwajów Śląskich, Zespołu Kleofas, Grzegorza Poloczka z kabaretem oraz koncert zespołu Good Vibes.
To jedna z niewielu okazji, kiedy zakład, dostępny na co dzień wyłącznie dla pracowników, otwiera swoje drzwi dla wszystkich tych, którzy chcą bliżej poznać pracę tramwajarzy oraz ciekawie spędzić popołudnie.
Uruchomione zostaną linie specjalne dowożące zwiedzających do Zajezdni od strony Mysłowic, Sosnowca i centrum Katowic – szczegółowy rozkład zostanie opublikowany na stronie www.tram-silesia.pl
Poniżej szczegółowy harmonogram:
8:00-14:00 – Turniej Piłki Nożnej o Puchar Prezesa spółki Tramwaje Śląskie S.A. – boisko w Ośrodku Sportowym "Słowian" w Katowicach, ul. 1 Maja 99
11:30 – Otwarcie Zajezdni dla zwiedzających, występ "Orkiestry Dętej Tramwaje Śląskie"
11:30 – 17:30 – Zwiedzanie zajezdni tramwajowej, w tym:
Wystawa taboru tramwajowego i technicznego oraz części tramwajów i elementów infrastruktury,
Wystawa o historii tramwajów w regionie,
Ekspozycja symulatora kabiny motorniczego,
Prezentacja Ośrodka Szkolenia Motorniczych,
Nauka jazdy tramwajem (z instruktorem),
Pokaz podnoszenia wagonu PESA 2012N (co 30 min. w godz. 13:00-17:00),
Pokaz sterowania zwrotnic,
Pokaz podwozia i aparatury dachowej,
Pokaz mycia tramwaju w myjni (co 30 min. w godz. 12:15-17:15),
Wybijanie pamiątkowego znaczka.
11:30 – 12:00 – Parada tramwajów z pl. Wolności w Katowicach do zajezdni w Katowicach Zawodziu
12:00 – Powitanie parady tramwajów
12:30 – Występ "Orkiestry Dętej Tramwaje Śląskie S.A."
13:00 – Finał "Konkursu na najlepszego motorniczego spółki Tramwaje Śląskie S.A."
13:30 – Program dla dzieci
14:30 – Oficjalne przywitanie gości
Wręczenie pucharów i nagród zwycięzcom turnieju piłki nożnej, laureatom konkursu fotograficznego i "Konkursu na najlepszego motorniczego spółki Tramwaje Śląskie S.A."
15:00 – Występ Zespołu Akordeonistów "Katowice-Kleofas"
15:40 – Pokaz akcji gaszenia płonącego wagonu
16:15 – Koncert zespołu Good Vibes
17:30 – Grzegorz Poloczek w programie kabaretowym
Dodatkowe atrakcje:
bicie rekordu pojemności tramwaju,
pokaz sprzętu wojskowego, policyjnego, straży pożarnej i straży miejskiej,
możliwość honorowego oddania krwi,
pokaz modułowej makiety kolejowej,
pokaz i szkolenie z zakresu udzielania pierwszej pomocy,
gry i zabawy dla dzieci, urządzenia rekreacyjne,
symulator dachowania, rowerowy tor przeszkód i alkogogle,
stoiska gastronomiczne z przekąskami i napojami,
strzelnica pneumatyczna.
News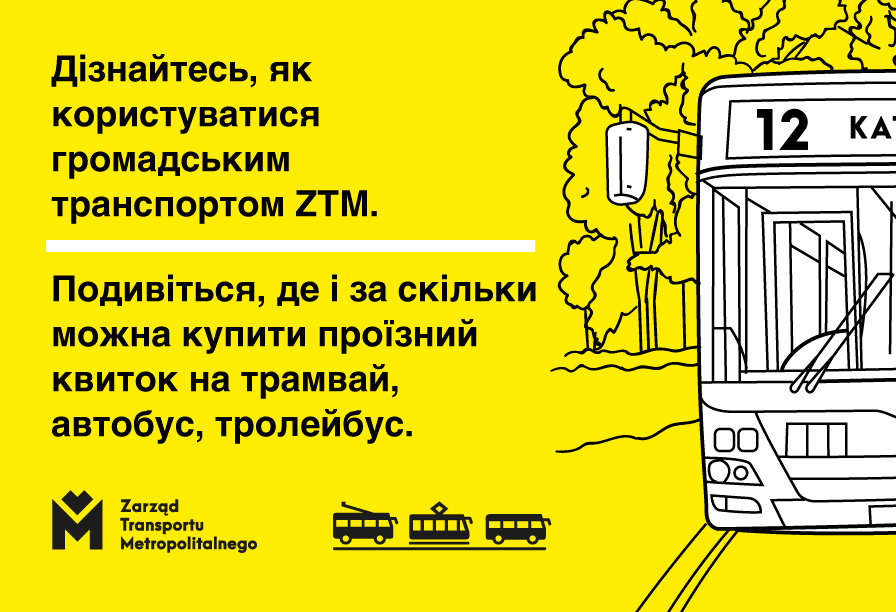 The possibility to use the urban public transport for free for citizens of Ukraine, who crossed the border in February, ends on the 31st of May. Already now we suggest, where you can buy a ticket and how to use the urban transport of the Metropolitan Transport Authority (ZTM).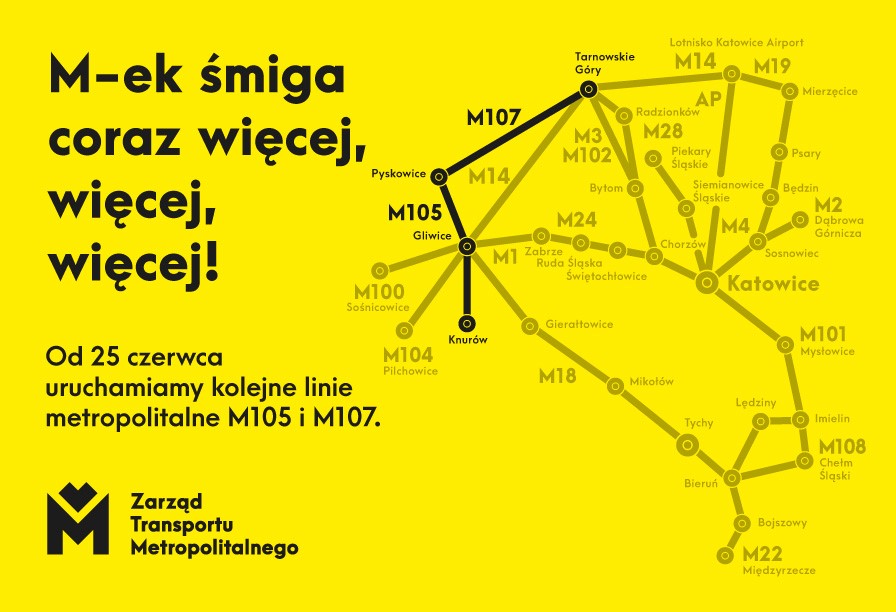 Nowa linia metropolitalna M107 zapewni przez cały tydzień regularne, bezpośrednie połączenie Pyskowic i Zbrosławic z Tarnowskimi Górami. Druga emka – M105 będzie kursować na trasie Gliwice, Pyskowice oraz Knurów.