Prawie 50 nowych biletomatów. Będą miały nową funkcjonalność
Publication date: 15.09.2021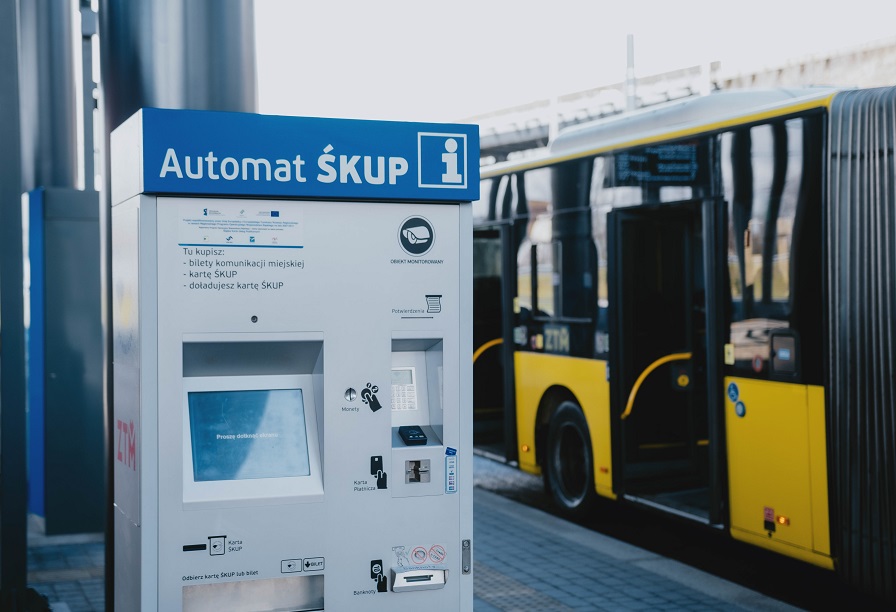 Rozwijamy system sprzedaży biletów. Na ulicach gmin tworzących Metropolię pojawią się nowe biletomaty. Dziś podpisana została umowa obejmująca 43 dodatkowe urządzenia. Prawdopodobnie będzie ich jeszcze więcej, ponieważ w trzech miastach planowany jest montaż kolejnych 5 automatów, dodatkowo zastrzegliśmy sobie prawo domówienia kolejnych 24 urządzeń. Znane są już nowe funkcjonalności oraz planowane lokalizacje urządzeń.
Podpisaliśmy umowę z firmą odpowiedzialną za montaż nowych automatów biletowych. 
Dziś podpisana umowa dotyczy 43 urządzeń. Ponadto, na obszarze trzech gmin, tj. Sosnowca, Siewierza i Łazisk Górnych, ma zostać zainstalowane dodatkowe 5 biletomatów. 
Zaplanowane zostały dokładne lokalizacje nowych urządzeń. 
Biletomaty będą miały nową funkcjonalność. Pasażerowie nie tylko kupią bilet, ale także dowiedzą się, kiedy przyjedzie oczekiwany przez nich autobus, tramwaj, czy trolejbus. 
Za ile przyjedzie autobus? Czyli nowa funkcja biletomatów
Biletomaty pełnią dwie istotne funkcje – sprzedażową i informacyjną. Dzięki dotychczas zamontowanym urządzeniom pasażerowie mogą m.in. kupić bilet papierowy i elektroniczny, odebrać kartę ŚKUP oraz odczytać komunikaty dotyczące zaplanowanych zmian w organizacji ruchu. Nowe biletomaty, względem wcześniejszych wersji, będą posiadać także dodatkową funkcję – pokażą rzeczywisty czas przyjazdu autobusów, tramwajów, czy trolejbusów. Jest to zatem zarówno ilościowy, jak i jakościowy rozwój tego kanału sprzedaży i informacji.
Nowe urządzenia – spore wyzwanie 
2,5 tysiąca kilometrów kwadratowych, 56 gmin i ponad 1500 pojazdów. Te liczby pokazują naszą skalę działalności oraz jak ważne jest dla nas systematyczne rozwijanie sprzedaży biletów. Dlatego, aby zwiększyć dostępność komunikacji publicznej, zamontowane zostaną 42 nowe biletomaty (jeden pozostanie w siedzibie ZTM dla możliwości przeprowadzania testów). Ta inwestycja nie należy do najprostszych. Jej stronami nie jesteśmy bowiem tylko my i wykonawca, ale również m.in. gminy, na obszarze których nowe urządzenia zostaną lokalizowane. Dziś jednak postawiliśmy kolejny, ważny krok na drodze tej inwestycji.
Docelowo nowe urządzenia pojawią się we wszystkich 41 gminach Metropolii, w tym m.in. w Będzinie, Dąbrowie Górniczej, Gliwicach, Zabrzu, w Tychach, Piekarach Śląskich i w Katowicach. Ustalenie lokalizacji automatów biletowych to efekt porozumienia z włodarzami miast. Władze Sosnowca, Siewierza i Łazisk Górnych zdecydowały się na zakup łącznie 5 dodatkowych urządzeń.
Zgodnie z założeniami, automaty biletowe zostaną zainstalowane do początku II kwartału przyszłego roku. Na 43, czy nawet na 48 urządzeniach może się nie skończyć. Zastrzegliśmy sobie prawo do złożenia dodatkowego zamówienia. O tym, czy zamontowane zostaną kolejne 24 urządzenia, zdecydujemy do końca 2023 r. Niezależnie od podjętej decyzji w tym obszarze, nadal będziemy rozwijać system sprzedaży biletów. Świadczymy usługi na obszarze aż 56 gmin. To sprawia, że inwestycje w ten obszar powinny być stale realizowane.