Przez COVID sporo zmian w komunikacji miejskiej. Obejmą one prawie 100 linii
Publication date: 28.01.2022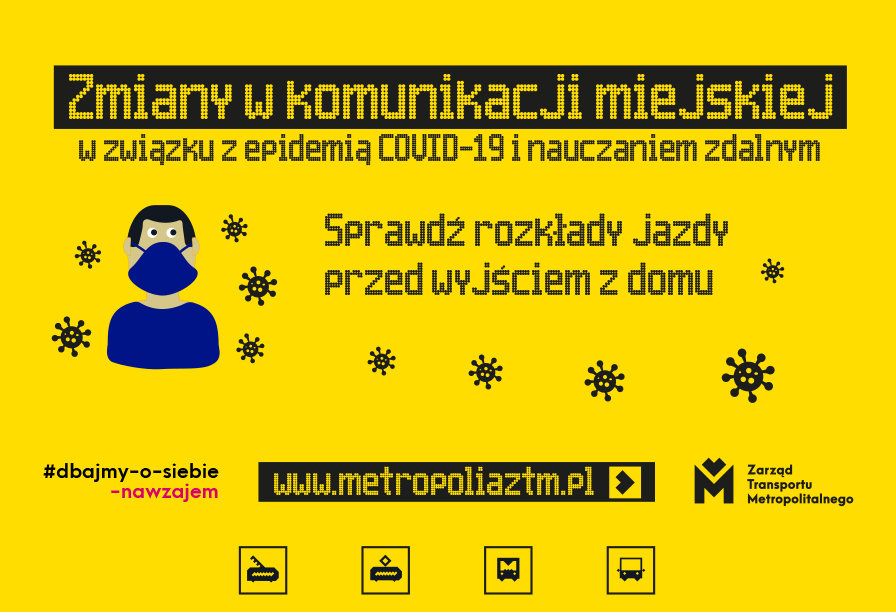 W poniedziałek 31 stycznia Zarząd Transportu Metropolitalnego wprowadzi szereg zmian w komunikacji miejskiej. Zakładają one zawieszenie ok. 20 linii, a także obowiązywanie rozkładów jazdy roboczych nieszkolnych na ponad 70 liniach. To efekt pogarszającej się sytuacji epidemicznej, odbywania przez kierowców kwarantanny, a także wprowadzenia częściowej nauki zdalnej. Organizator transportu apeluje, aby rozkłady jazdy sprawdzać w internecie przed wyjściem z domu na przystanek.
ZTM dynamicznie reaguje na zmieniające się okoliczności i systematycznie wprowadza zmiany w funkcjonowaniu komunikacji miejskiej.
Organizator bierze pod uwagę m.in. liczne zachorowania na COVID, odbywanie przez kierowców kwarantanny, a także zmiany liczby podróżnych na poszczególnych liniach, co wynika m.in. z częściowo zawieszonej przez rząd nauki stacjonarnej.
Najważniejsze zmiany w komunikacji autobusowej to wprowadzenie na ok. 70 liniach rozkładów jazdy roboczych nieszkolnych oraz zawieszenie ok. 20 linii, których głównym zadaniem jest dowóz dzieci i młodzieży do szkół.
Zapowiadane przez ZTM zmiany zostaną wdrożone 31 stycznia.
Organizator transportu apeluje, aby godziny odjazdów, w związku z dynamicznie wprowadzanymi zmianami, sprawdzać w internecie przed wyjściem z domu na przystanek.
Zarząd Transportu Metropolitalnego kolejny raz dynamicznie reaguje na rozwój sytuacji epidemicznej w kraju i wprowadza liczne, tymczasowe modyfikacje w rozkładach jazdy. Na ponad 70 liniach autobusowych będą obowiązywały rozkłady jazdy ważne na dni robocze nieszkolne. – Obowiązywanie tego typu rozkładów oznacza w wielu przypadkach utrzymanie stosunkowo dużej liczby połączeń w szczytach, tj. do ok. godziny 8 oraz po godzinie 14 oraz zmniejszenie oferty przewozowej w godzinach okołopołudniowych i popołudniowych – mówi Michał Wawrzaszek, rzecznik prasowy Zarządu Transportu Metropolitalnego. – Pasażerom mocno rekomendujemy, aby rozkłady jazdy sprawdzać w internecie przed wyjściem z domu – apeluje w imieniu organizatora komunikacji miejskiej.
Poza zmianami obejmującymi komunikację autobusową, zaplanowano także modyfikację ruchu na 3 liniach trolejbusowych. Na liniach A, B i C, podobnie jak w przypadku wielu linii autobusowych, zostanie wprowadzony rozkład jazdy roboczy nieszkolny.
ZTM jednocześnie wskazuje, że w pojazdach komunikacji miejskiej obowiązują przepisy sanitarne. Chodzi tutaj o noszenie zakrywających usta i nos maseczek. Warto także przypomnieć, że od 25 stycznia przewoźnicy autobusowi, tramwajowi i trolejbusowi mogą wprowadzać w swoich pojazdach tzw. strefy ochronne (wydzielone), co dla pasażera oznacza brak możliwości zakupu biletu u kierowcy. W związku z tym ZTM zachęca do korzystania z innych kanałów sprzedaży, m.in. z automatów biletowych, aplikacji mobilnych, czy też stacjonarnych punktów sprzedaży.
Szczegółowe informacje dotyczące wprowadzanych zmian dostępne są na stronie internetowej w zakładce Aktualności - Komunikaty.
News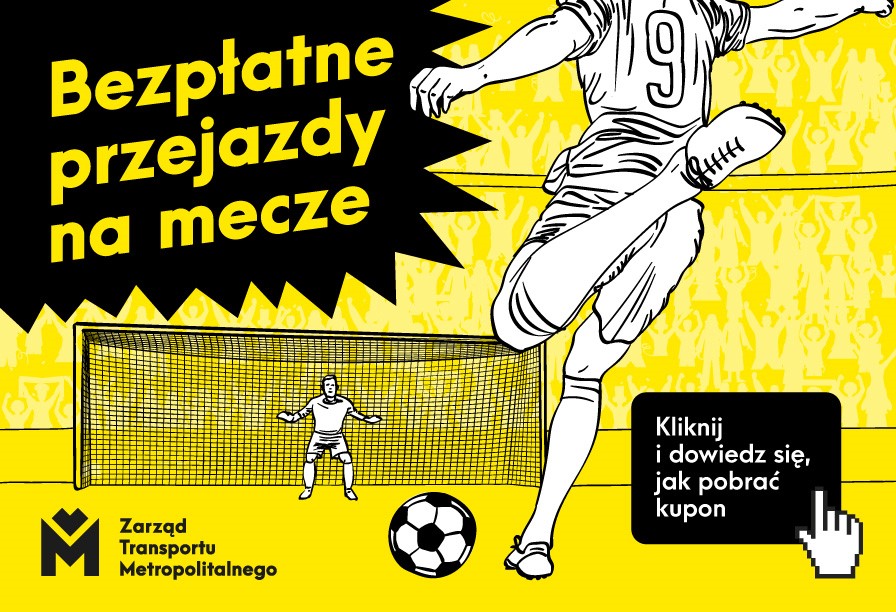 Persons watching the Friday match between teams of Poland and Czech Republic, in the 'U20 Eight Nations Tournament', will be able to use for free all the connections of the urban transport organised by the ZTM. It is enough to hold the entry ticket and a special coupon.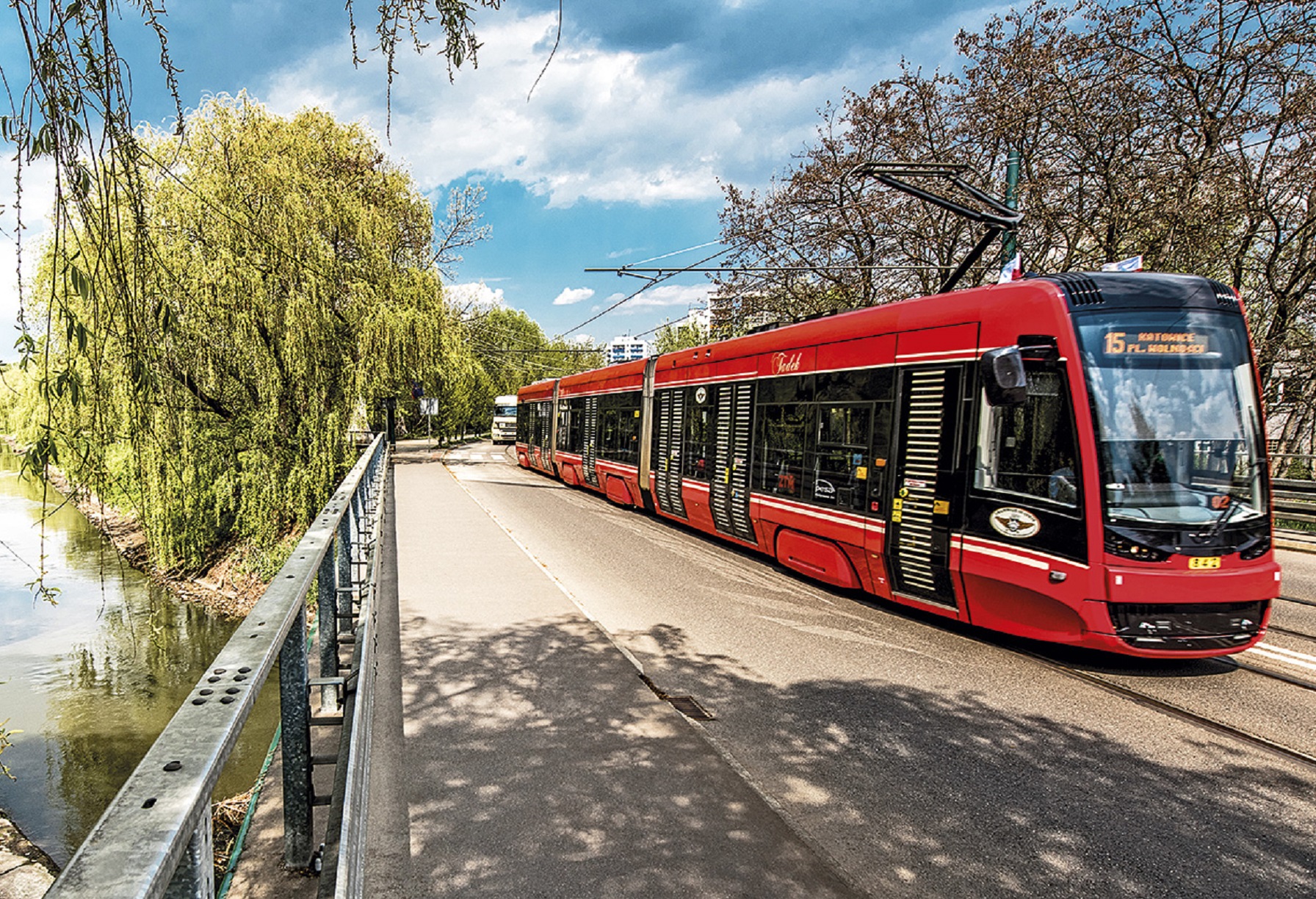 Początek kwietnia przyniesie szereg zmian w organizacji ruchu tramwajowego na trasach łączących Katowice i Chorzów, Katowice i Sosnowiec oraz Świętochłowice i Chorzów. W jednych miejscach ruch tramwajów zostanie wznowiony, w innych wstrzymany. Wszystko to związane jest z realizacją zadań inwestycyjnych prowadzonych przez spółkę Tramwaje Śląskie S.A.