Transformacja cyfrowa ZTM: Kolejne tablice elektroniczne, zwiększona funkcjonalność solarnych automatów biletowych, internet zastąpi Punkty Obsługi Klienta
Publication date: 11.03.2021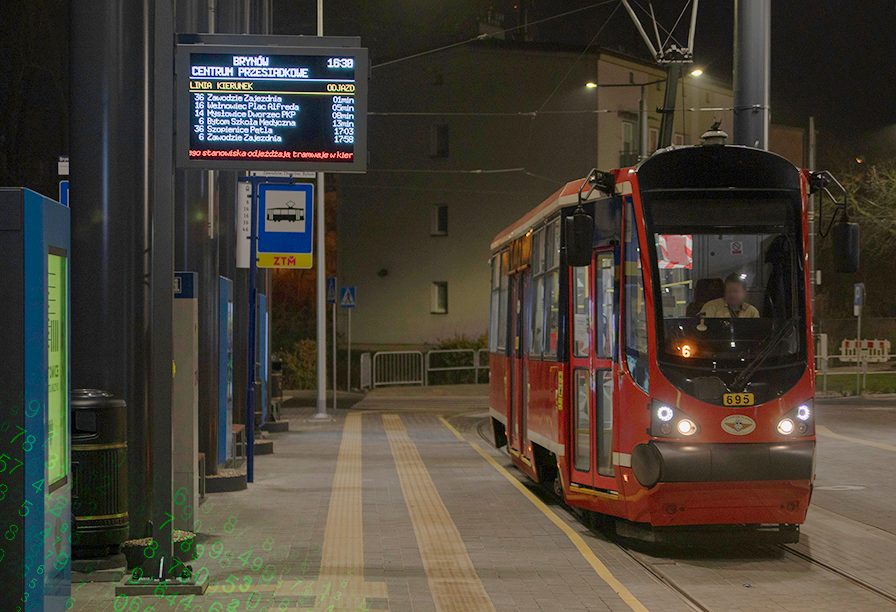 Zarząd Transportu Metropolitalnego zainstalował w 18 gminach na blisko 90 przystankach komunikacji miejskiej kolejne tablice Systemu Dynamicznej Informacji Pasażerskiej. To urządzenia, dzięki którym pasażerowie wiedzą, za ile minut przyjedzie ich autobus, tramwaj i trolejbus. Transformacja cyfrowa objęła także solarne automaty biletowe oraz Punkty Obsługi Klienta.
Zarząd Transportu Metropolitalnego właśnie zintegrował z systemem elektronicznych tablic informacyjnych kolejnych 59 urządzeń. Dzięki każdemu z nich pasażerowie mogą dowiedzieć się, za ile minut przyjedzie dany autobus, tramwaj lub trolejbus. Tym samym podróżnym służy już w sumie 309 takich urządzeń w 22 gminach. Kolejnych 30 tablic zostało już zainstalowanych, obecnie trwają ich odbiory techniczne. Specjaliści z ZTM i GZM sprawdzają m.in. dokumentację techniczną oraz właściwe działanie tablic. Docelowo uruchomionych zostanie ponad 550 tablic elektronicznych.
Nowe urządzenia działają już m.in. w Będzinie, Bytomiu, Chorzowie, Gliwicach, Rudzie Śląskiej, Siemianowicach Śląskich, Zabrzu, Sosnowcu i Katowicach. Najnowsze wersje tablic mają dodatkowe udogodnienia tj. wyświetlanie informacji po obu stronach oraz zmieniony kształt, dzięki czemu treści są lepiej czytelne. Ponadto na każdej tablicy znajduje się kamera, która dba o bezpieczeństwo i przeciwdziała aktom wandalizmu.
Portal Klienta, aplikacja mobilna, automaty biletowe i Punkty Obsługi Pasażera zastąpią Punkty Obsługi Klienta
Sprawami, które dotychczas pasażerowie załatwiali w Punktach Obsługi Klienta, będą mogli zająć się bez wychodzenia z domu, przez internet. Dla osób, które wybierają bardziej tradycyjne rozwiązania, Zarząd Transportu Metropolitalnego przygotował Punkty Obsługi Pasażera, znajdujące się w 10 miejscach na obszarze Metropolii. Przygotowania do tej zmiany trwały kilka miesięcy. W ubiegłym roku wprowadzono możliwość zamówienia karty ŚKUP do domu. Ponadto wydłużone zostały godziny otwarcia Punktów Obsługi Pasażera. Zwiększono także ich uprawnienia. Warto także wspomnieć o aplikacji "Mobilny ŚKUP", której funkcjonalność została rozszerzona początkiem tego roku.
Co ważne już 22 marca zadania Punktów Obsługi Klienta całkowicie przejmą internetowy Portal Klienta, aplikacja mobilna oraz automaty biletowe i Punkty Obsługi Pasażera.
Automaty solarne z nową funkcjonalnością. Będzie również 48 nowych biletomatów
Cyfryzacja obejmuje nie tylko opisywane tablice SDIP i punkty obsługi, ale również kanały sprzedaży. Nową funkcjonalność zyskały solarne automaty biletowe. Od końca lutego w urządzeniach tych można płacić kartą. To pilotażowy program, dzięki któremu uruchomiono 10 takich punktów sprzedaży. Urządzenia te zostały zainstalowane w gminach, gdzie do tej pory nie funkcjonowały żadne biletomaty. Przypomnijmy jednocześnie, że Zarząd Transportu Metropolitalnego równolegle prowadzi postępowanie przetargowe na zakup 48 stacjonarnych biletomatów.
Dokładne lokalizacje nowych tablic SDIP oraz automatów biletowych wskazane zostały w załączonych w tabelach.