W sobotę ruszają kolejne linie metropolitalne. Nowe połączenia m.in. w Gliwicach, Piekarach Śląskich, Pilchowicach i Sośnicowicach
Publication date: 04.02.2022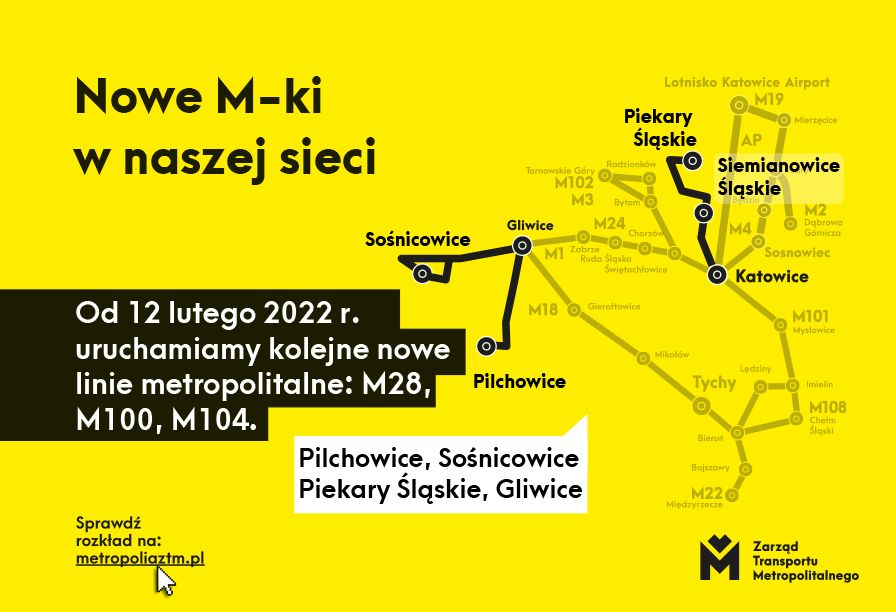 M100, M104 i M28 – to nowe metrolinie, które 12 lutego ruszą na ulice Metropolii. M-ki kursować będą przez sześć gmin Górnośląsko-Zagłębiowskiej Metropolii. Niezależnie od prac nad systematycznym uruchamianiem kolejnych linii, w lutym zostanie ogłoszony przetarg na firmę, która zapewni obsługę wszystkich pozostałych, zaplanowanych połączeń. Docelowo system metrolinii składać się będzie z 31 linii autobusowych.
Do tej pory uruchomionych zostało 12 linii metropolitalnych, które połączyły 24 miasta GZM. Wkrótce, bo od soboty (12 lutego), w trasę wyjadą trzy kolejne. M28 połączy Piekary Śląskie z Katowicami. Bezpośrednie połączenia pojawią się też pomiędzy Gliwicami a gminą Pilchowice (M104) i Sośnicowicami (M100).
Trzy nowe połączenia, które wkrótce zostaną uruchomione, to również odpowiedź na zgłaszane przez mieszkańców oczekiwania, które dotyczyły m.in. usprawnienia funkcjonowania komunikacji miejskiej pomiędzy gliwickimi osiedlami oraz pomiędzy mniejszymi miejscowościami.   
Sporo korzyści dla mieszkańców mniejszych miejscowości, m.in. bezpośrednie połączenie Pilchowic z Gliwicami
Linia M104 połączy Gliwice ze Stanicą leżącą w gminie Pilchowice. Oprócz regularnych kursów w dni robocze ta M-ka będzie jeździć również w dni wolne od pracy. Wcześniej podróż komunikacją miejską do i ze Stanicy m.in. w weekendy była niemożliwa. Teraz metrolinie połączą mniejsze miejscowości z większymi miastami i uzupełnią luki komunikacyjne.
Od soboty pasażerowie będą mogli korzystać również z metrolinii M100, o którą zabiegali mieszkańcy różnych dzielnic Gliwic, w tym Ostropa i Wilczego Gardła.
Oprócz M-ek w drogę ruszy także sfinansowana przez miasto Gliwice linia 693, która połączy Żerniki z osiedlami Waryńskiego, Kopernika i Obrońców Pokoju. Pasażerowie będą mogli szybciej dotrzeć z osiedli do pracy w strefie ekonomicznej.
Do Zarządu Transportu Metropolitalnego w Katowicach już od jakiegoś czasu wpływały wnioski
o uruchomienie bezpośrednich połączeń z Trynku na targowisko i na Cmentarz Lipowy. Dlatego zmieni się trasa linii 60, która od 12 lutego będzie przejeżdżać od Trynku, przez centrum aż na gliwickie Zatorze. Oprócz tego częściej pojadą linie 59 i 202.
Jedna metrolinia, trzy duże miasta
Tego samego dnia na ulice Metropolii wyjedzie linia M28, która zapewni mieszkańcom Piekar Śląskich bezpośrednie połączenie z Siemianowicami Śląskimi i Katowicami. Ta M-ka również będzie jeździć przez siedem dni w tygodniu, w dni wolne co godzinę. M28 dowiezie pasażerów na popularne przystanki w Piekarach Śląskich, tj. Osiedle Wieczorka Dworzec, czy Piekary Bazylika, na katowicki Plac Wolności i na Sokolską. M-ka wzbogaci siatkę połączeń. Uzupełni trasę linii 5, 185, czy 168, która kursuje z Piekar Śląskich przez Siemianowice Śląskie, dociera do Katowic, na Koszutkę, Józefowiec i Plac Wolności.
Jeszcze w lutym przetarg na kolejne metrolinie
Zarząd Transportu Metropolitalnego jednocześnie zapowiada, że jeszcze w tym miesiącu zostanie ogłoszony duży przetarg na obsługę autobusowych połączeń komunikacji miejskiej. Umożliwi to uruchomienie w ciągu pół roku m.in. kolejnych linii metropolitalnych. Według założonego planu będą to M15, M17, M25, M26 i M103. Ich trasy mają przebiegać przez Bobrowniki, Bytom, Czeladź, Dąbrowę Górniczą, Imielin, Katowice, Lędziny, Mysłowice, Piekary Śląskie, Psary, Siemianowice Śląskie, Sławków, Sosnowiec i Tychy. Pozostałe metrolinie będą uruchamiane w kolejnych miesiącach niezależnie od tego przetargu. Docelowo wszystkich ma być 31.
News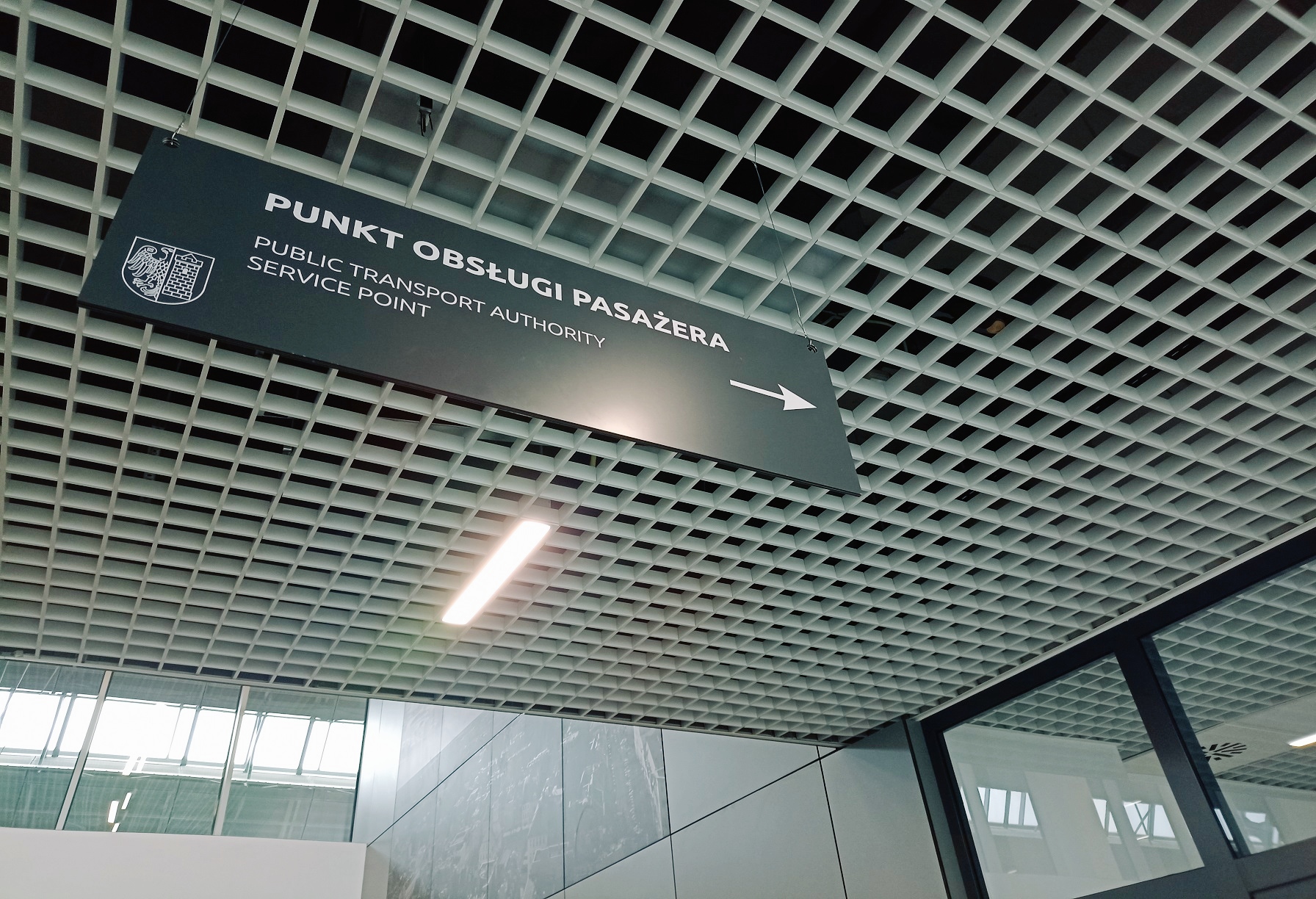 From the 5th of December the POP in Gliwice will be situated in the newly opened Transfer Centre. Passengers will be capable of handling their matters and transfer to the selected means of transport in one place.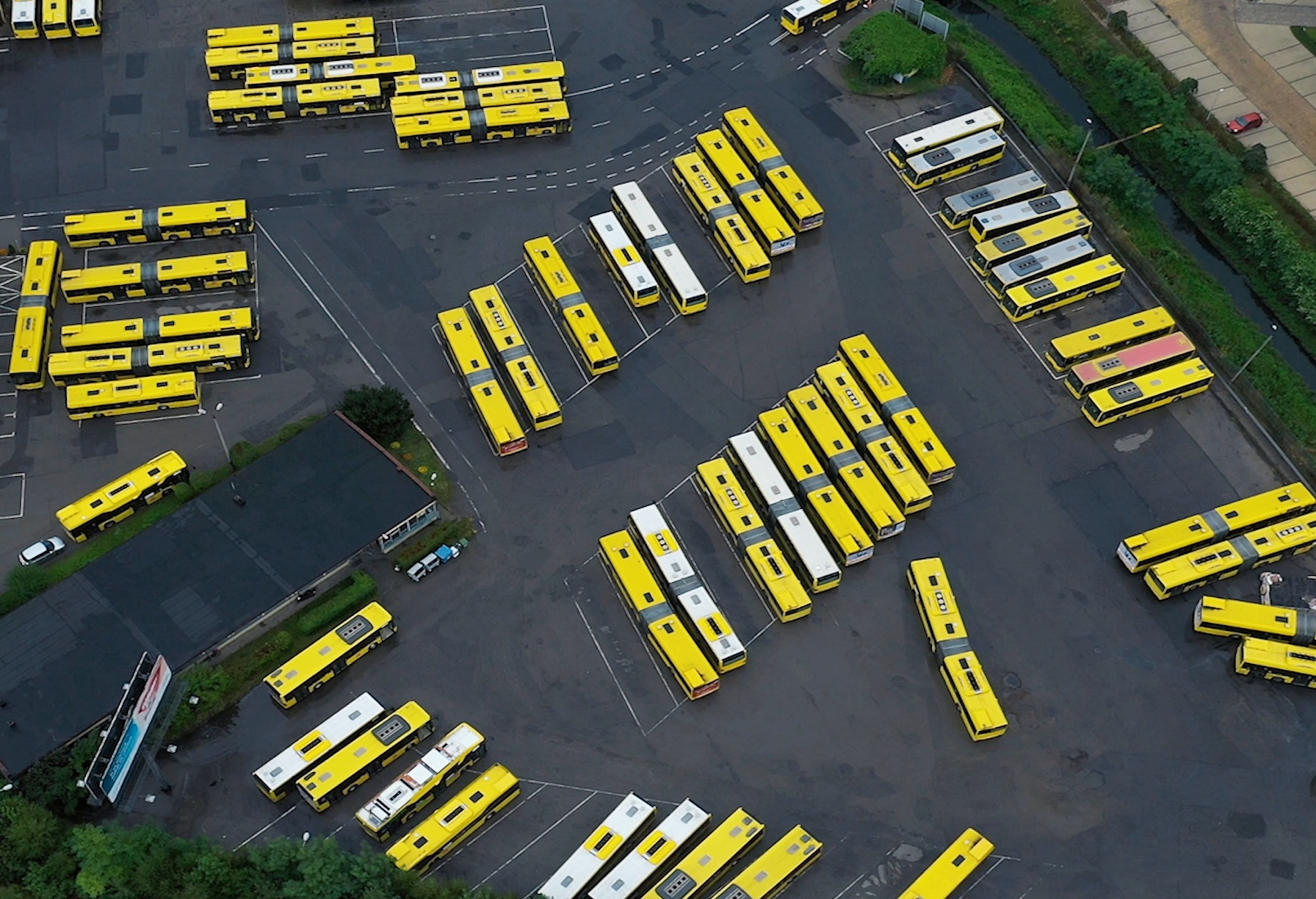 On the 3rd of December, in relation to the commissioning of the Transfer Centre in Gliwice, the operation of approx. 50 bus lines will change within the city area. The Metropolitan Transport Authority (ZTM) emphasises, that these lines also include such, which routes go outside Gliwice and due to that also residents of e.g. Knurów, Pyskowice, and Zabrze should learn about the modifications. To facilitate the use of urban transport for passengers from these cities, the transport organiser has prepared now additional information materials.