ZTM zamawia prawie 50 biletomatów
Publication date: 13.11.2020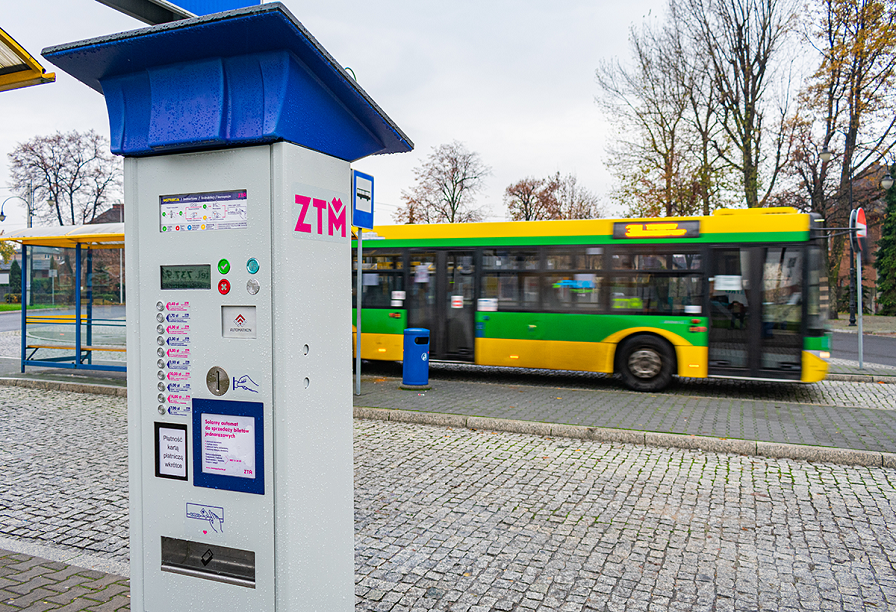 Nowe urządzenia trafią do gmin tworzących Metropolię. Dzięki temu bilety na komunikację miejską staną się jeszcze bardziej dostępne. Ponadto automaty będą pełnić nie tylko funkcję sprzedażową, ale również informacyjną. Nową funkcjonalnością będzie wyświetlanie na ich ekranach komunikatów o bieżącym ruchu autobusów i tramwajów. ZTM systematycznie zwiększa dostępność biletów i rozwija nowoczesne kanały sprzedaży. Zakup nowych urządzeń to kolejny element tego planu i odpowiedź na oczekiwania pasażerów.
Plan uwzględnia montaż zamawianych biletomatów w gminach tworzących Metropolię.
Automaty biletowe pełnią dwie ważne funkcje – sprzedażową oraz informacyjną. W zakresie tej drugiej pasażerowie mogą spodziewać się niestosowanych dotychczas rozwiązań.
Liczba zamawianych urządzeń może zostać zwiększona nawet do 72.
Inwestycja to oczekiwany przez pasażerów rozwój stacjonarnego kanału sprzedaży.
Nowe urządzenia będą istotnym rozwinięciem funkcjonującego już od 2014 roku systemu automatów biletowych. Dziś pasażerom służą 123 biletomaty zlokalizowane w 24 gminach. Zgodnie z planem, za około rok ma ich być już w sumie 171 w ok. 40 gminach. ZTM właśnie ogłosił przetarg na dostawę, montaż i serwis urządzeń. Dostępność komunikacji miejskiej to nie tylko bliskość przystanków oraz częstotliwość połączeń. To także rozwinięty system sprzedaży biletów. Pracownicy ZTM wiedzą, jak ważne dla pasażerów są zróżnicowane możliwości zakupu biletów. Automaty biletowe będą instalowane w miejscach o dużej frekwencji podróżnych, np. w centrach miast lub na dużych osiedlach mieszkaniowych oraz centrach przesiadkowych. Obszar, na jakim ZTM świadczy usługi jest ogromny. To ok. 2,5 tys. km kw. Pracownicy ZTM zdają sobie sprawę z potrzeb, stąd stale rozwijają system dystrybucji biletów, a blisko 50 nowych biletomatów przybliża do realizacji oczekiwań pasażerów.
Do niektórych gmin trafi więcej niż jeden biletomat.
Ogłoszony na 48 automatów biletowych przetarg rozstrzygnie się w grudniu. Następnie, w ciągu 10 miesięcy urządzenia mają zostać zainstalowane na obszarze Metropolii. Do co najmniej trzech gmin trafi więcej niż jedno urządzenie. Chodzi o Łaziska Górne, Siewierz i Sosnowiec. W pierwszych dwóch wymienionych miejscowościach zlokalizowane zostaną 2 urządzenia, a w stolicy Zagłębia aż 4. Jest to efekt porozumienia zawartego z włodarzami tych miast, którzy zdecydowali się na zakup dodatkowych biletomatów. Satysfakcję z inwestycji z pewnością odczują mieszkańcy Tarnowskich Gór, którzy niejednokrotnie wskazywali, że na miejscowym dworcu autobusowym takie urządzenie powinno się znaleźć. ZTM dziś potwierdza, że ta lokalizacja została uwzględniona.
Funkcje sprzedażowe i informacyjne.
Podstawowymi funkcjonalnościami automatów biletowych pozostają sprzedaż biletów papierowych i elektronicznych oraz wydawanie kart ŚKUP i ich zasilanie pieniądzem elektronicznym. Urządzenia te to też jeden z kanałów komunikacji z pasażerem w ZTM. Po pierwsze podróżni będą mogli na nich odczytać komunikaty dotyczące zaplanowanych zmian w organizacji ruchu. Podobnie jak na wcześniej kupowanych automatach. Po drugie ZTM będzie mógł je wykorzystywać do wyświetlania w czasie rzeczywistym informacji o bieżącym funkcjonowaniu komunikacji miejskiej, a to już jest nowość. Chodzi m.in. o wyświetlanie na ekranach urządzeń informacji, za ile minut przyjedzie dany autobus lub tramwaj.
Nowych automatów biletowych może być więcej. Nawet 72.
Na 48 nowych automatach biletowych może się nie skończyć. ZTM w ogłoszonym przetargu uwzględnił tzw. prawo opcji. Daje ono organizatorowi transportu prawo do złożenia dodatkowego zamówienia. Na zakup kolejnych 24 urządzeń ZTM będzie mógł się zdecydować do końca 2023 r.
Sprzedaż w nowych automatach ruszy w III kwartale 2021 r.
Pierwsze, nowe automaty biletowe zaczną służyć pasażerom prawdopodobnie w III kwartale przyszłego roku. Biorąc pod uwagę konieczność przeprowadzenia przetargu na złożone zamówienie (nie tylko dostawa sprzętu, ale również jego montaż i serwis) oraz nieodzowność zapewnienia kompatybilności urządzeń z obecnie funkcjonującym systemem informatycznym termin ten nie jest odległy. W szczegółowo rozpisanej Specyfikacji Istotnych Warunków Zamówienia uwzględniono termin dostawy i montaż automatów jako kryterium brane pod uwagę przy wyborze Wykonawcy – obok ceny, pracochłonności zmian w oprogramowaniu automatów i jasności głównego ekranu automatu.
Solarne automaty uzupełnieniem systemu. Trzy urządzenia już służą pasażerom.
Pod koniec października ZTM testowo uruchomił pierwsze, nowe, solarne automaty biletowe. Urządzenia stanęły w trzech miejscach – przy przystanku Tarnowskie Góry Bytomska, w Mikołowie przy przystanku Plac 750-lecia oraz przy przystanku Bieruń Plac Autobusowy. Docelowo automaty te znajdą się także w 7 innych gminach, w których dotychczas nie było tego rodzaju kanału dystrybucji biletów. W planie ujęto takie miejscowości jak Gierałtowice, Lędziny, Łaziska Górne, Psary, Sośnicowice, Świerklaniec i Zbrosławice. Tego rodzaju automaty biletowe umożliwiają zakup 10 rodzajów jednorazowych biletów papierowych. Ich zdecydowaną zaletą jest ekologiczność. Urządzenia te pokazują, jak duży jest potencjał sprzedażowy miejsc, w których zostały zainstalowane. Jeśli będzie wysoki to ZTM planuje w tych lokalizacjach dalsze rozwijanie sieci dystrybucji biletów.
News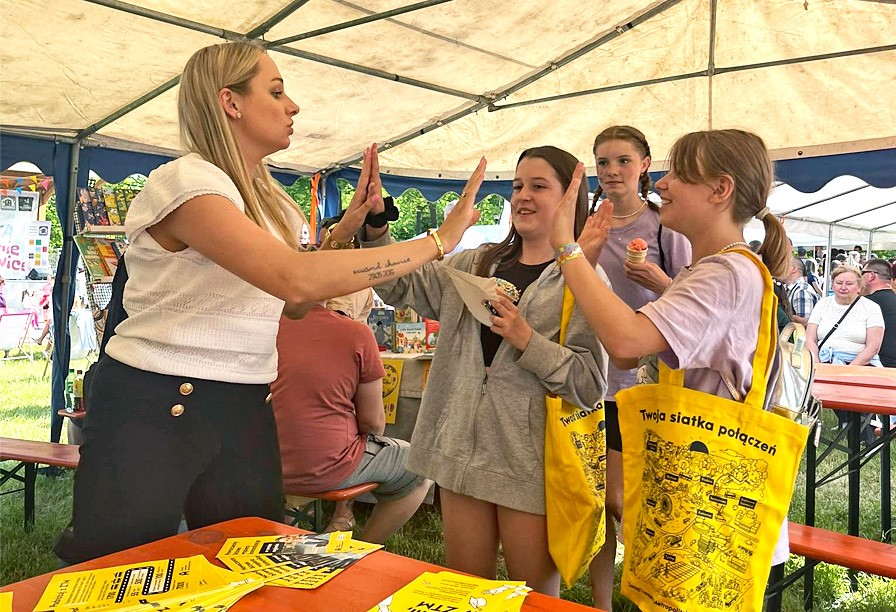 Nasze stoiska z drobnymi upominkami dla dzieci będzie można spotkać aż w czterech miastach, od 1 do 4 czerwca.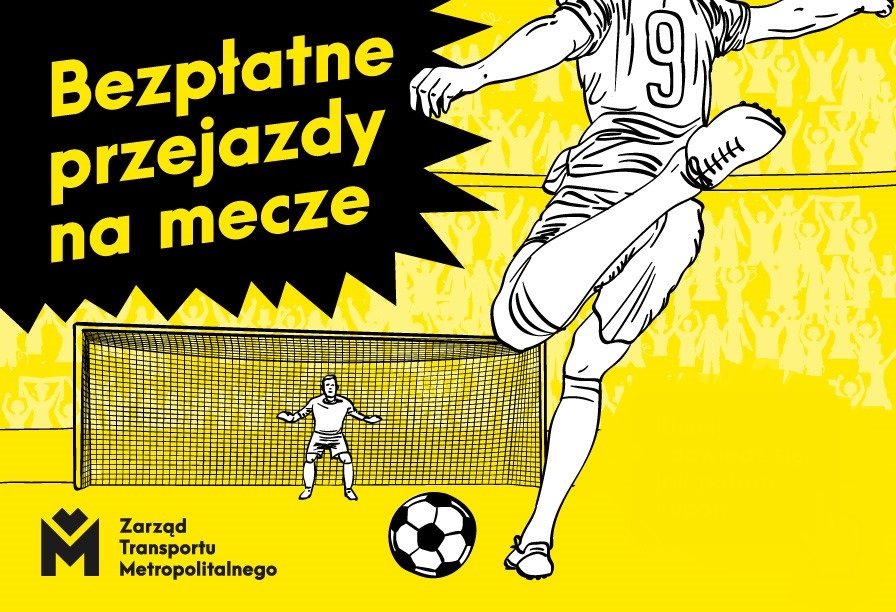 The persons watching two matches played at the ArcelorMittal Park in Sosnowiec will be able to use for free the ZTM transport on the day of the game.