Nowy wzór informacji przystankowej. Będzie bardziej czytelna i widoczna z daleka
Publication date: 15.04.2021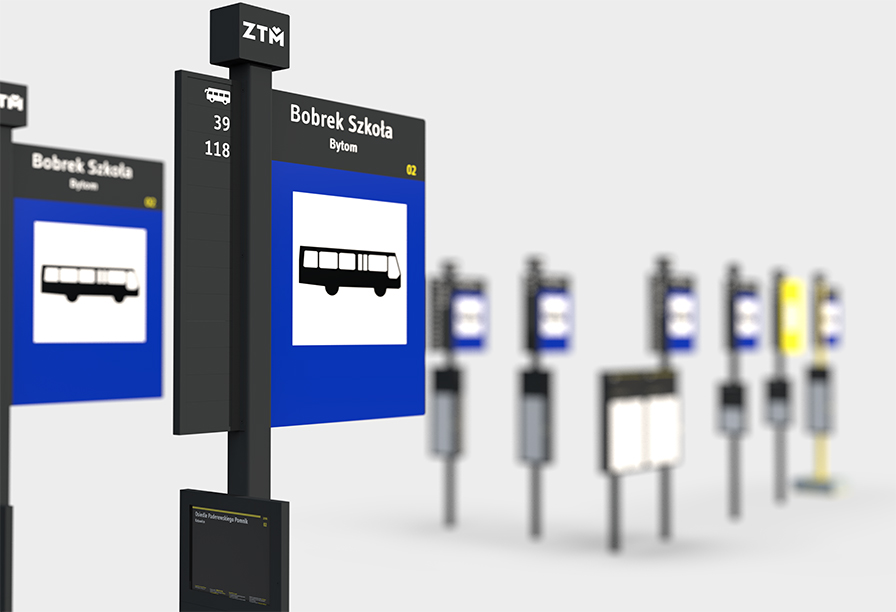 Po kilku miesiącach prac projektowych i inwentaryzacji prawie 7 tysięcy przystanków, ZTM przyjął nowy projekt wyglądu rozkładów jazdy, słupków i gablot. Dla pasażerów ujednolicanie oznacza, że informacje te będą prezentowane w dużo bardziej czytelny i estetyczny sposób, dzięki czemu podróżowanie komunikacją miejską będzie bardziej przyjazne. Organizatorowi transportu ułatwi to zarządzanie przystankami i znajdującymi się na nich informacjami.
Opracowany projekt łączy różne podsystemy, m.in. systemy informacji przystankowej oraz system informacji na automatach biletowych. Ujednolicony zostanie wzór tablic z nazwami przystanków, które będą znajdować się w górnej części wiaty przystankowej.
W górnym boku słupka z rozkładem jazdy oznaczone zostaną numery linii, które odjeżdżają z danego przystanku. Oznacza to, że pasażer z daleka będzie mógł zorientować się, czy z tego miejsca odjeżdża pojazd, na który czeka.
Czytelna informacja zwiększy komfort podróży
Zmianom ulegną w zasadzie wszystkie elementy infrastruktury przystankowej. Słupki będą składać się z modułów. To właśnie dzięki temu rozwiązaniu wymiana ich poszczególnych elementów pozwoli na szybsze działanie zespołów obsługujących przystanki oraz zmniejszenie kosztów utrzymania. Na tablicach pojawią się kody QR, których zeskanowanie umożliwi przejście do internetowego rozkładu jazdy danego stanowiska. Zgodnie z nowym projektem pojawią się również specjalne miejsca w gablotach, w których oprócz nazwy przystanku, numeru stanowiska i informacji o organizatorze transportu, pasażerowie będą mogli znaleźć wszystkie najważniejsze informacje dotyczące organizacji ruchu. Co ważne, na rozkładach jazdy przy numerach linii objętych zmianami pojawią się specjalne znaczniki oraz kod QR odsyłający do komunikatu na stronie internetowej ZTM. Zmodyfikowany zostanie także wygląd rozkładów jazdy oraz ich oznaczenia graficzne, co znacznie poprawi czytelność. Wszystkie będą drukowane na białym tle. Kolor żółty, który dotychczas pojawiał się na rozkładach linii tramwajowych, zarezerwowany będzie dla tymczasowych zmian, tak by zwracać uwagę osób korzystających z transportu zbiorowego.
Jednolity system oznacza łatwiejszą i sprawniejszą wymianę informacji i rozkładów jazdy na przystankach. Ponadto będzie to też miało swoje odbicie w finansach. Poprzez wykorzystywanie tych samych i niezależnych względem siebie elementów na poszczególnych przystankach, pojawi się możliwość wymiany tylko tych części, które takiego zastąpienia wymagają, bez konieczności ingerencji w całą konstrukcję. Oszczędności będą również generowane dzięki ograniczeniu liczby typów elementów infrastruktury przystankowej, ponieważ zamawianie większej liczby jednego rodzaju części obniża jednostkowe koszty produkcji.
Nowe elementy pojawią się również w gablotach na rozkłady jazdy. Dzięki podświetleniu rozkłady i komunikaty będą czytelniejsze w godzinach wieczorno-nocnych oraz podczas złych warunków atmosferycznych, a pasażerowie niezależnie od warunków pogodowych będą mogli spokojnie sprawdzić interesujące ich informacje.
Wizualizacja SIW – Studio ITEM, Karolina Hołdys i Joanna Pastusińska
Przygotowanie projektu poprzedziła analiza wszystkich przystanków w Metropolii
Zarząd Transportu Metropolitalnego, przystępując latem 2020 r. do inwentaryzacji, rozpoczął długi proces ujednolicania infrastruktury przystankowej, czyli m.in. rozkładów jazdy oraz słupków i gablot przystankowych. Zadanie to jest wyjątkowym w skali kraju, gdyż obszar obsługiwany przez tego organizatora transportu to 56 gmin i prawie 7 000 przystanków zlokalizowanych na ponad 2,5 tys. km kwadratowych. Pracownicy ZTM podkreślają, że to ogromne wyzwanie, ale i jednocześnie powinność, bo dzięki przyjęciu i wdrożeniu nowych rozwiązań informacja pasażerska będzie jeszcze czytelniejsza, a przystanki estetyczne.
Metropolia unowocześnia infrastrukturę przystankową
Pod koniec ubiegłego roku Górnośląsko-Zagłębiowska Metropolia przyjęła "Wytyczne dotyczące infrastruktury transportu zbiorowego". Dotyczą one wprowadzenia jednolitych standardów infrastruktury przystankowej. Proponowane przez Metropolię rozwiązania dotyczą m.in. rodzaju nawierzchni, krawężników peronowych, wiat przystankowych, tablic z rozkładami jazdy czy siedzisk. Regulacje dotyczą także tablic informacji pasażerskiej oraz automatów biletowych. Rekomendacje odnoszą się też do węzłów przesiadkowych, dostępności przystanków oraz stosowania rozwiązań ułatwiających korzystanie z infrastruktury przez osoby o ograniczonych zdolnościach w poruszaniu się.
Projekt sytemu informacji wizualnej dla transportu miejskiego dla Górnośląsko-Zagłębiowskiej Metropolii został przygotowany przez TUKEJ. To grupa projektowa, którą na stałe tworzą Justyna Kucharczyk i Agnieszka Nawrocka – związane z ASP w Katowicach, przy współpracy ze studiem ITEM Karoliną Hołdys i Joanną Pastusińską.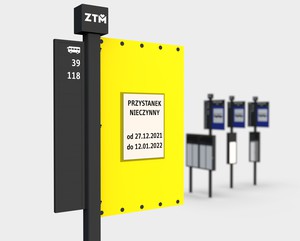 Wizualizacja SIW – Studio ITEM, Karolina Hołdys i Joanna Pastusińska
Dla szczególnie zainteresowanych publikujemy prezentację systemu informacji wizualnej dla transportu miejskiego ZTM. Jest ona dostępna w sekcji załączniki po prawej stronie.