Transport publiczny wyjdzie z kryzysu obronną ręką - debata na Kongresie Polityki Miejskiej z udziałem ekspertów ZTM
Publication date: 10.06.2021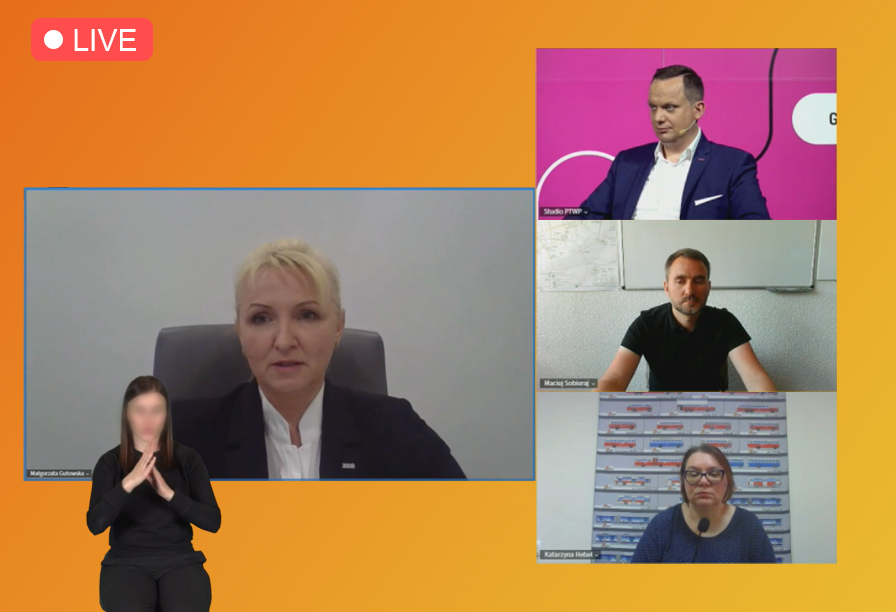 8 czerwca odbyła się w ramach Kongresu Polityki Miejskiej debata "Czego nauczyła nas pandemia - perspektywa transportu publicznego". Uczestniczyli w niej eksperci z 4 instytucji - dyrektor Małgorzata Gutowska oraz zastępca dyrektora ds. handlowych Andrzej Stangret z Zarządu Transportu Metropolitalnego, zastępca dyrektora ds. transportu Maciej Sobieraj z Zarządu Dróg i Transportu w Łodzi i zastępca dyrektora Zarządu Komunikacji Miejskiej w Gdyni Katarzyna Hebel.
Początek debaty poświęcony był podsumowaniu sytuacji w branży transportu publicznego na przestrzeni ubiegłego roku, który przyniósł także w tym obszarze rekordowe spadki, m.in. w zakresie sprzedaży biletów i liczby pasażerów. Dyrektor Zarządu Transportu Metropolitalnego Małgorzata Gutowska podkreślała, że kryzys wywołany pandemią uderzył bardzo silnie w całą branżę transportową i że komunikacja miejska nie była tu wyjątkiem: - Kilkudziesięcioprocentowy spadek frekwencji podróżnych i 100 mln złotych mniejsze wpływy z biletów powaliłoby nawet najsilniejszą markę, ale my się nie dajemy. I nie przestajemy pracować nad rozwojem naszych usług - modernizacją taboru i infrastruktury przystankowej, wprowadzeniem nowych linii i technologii. Negatywne trendy ekonomiczne okazały się dla całej branży szeregiem wyzwań i koniecznością podejmowania radykalnych decyzji. Większość organizatorów transportu w Polsce, w tym Zarząd Transportu Metropolitalnego, poradziło sobie bardzo dobrze z koniecznością adaptacji do nowych realiów. Transport publiczny nie mógł się zatrzymać ani na chwilę - tak jak ochrona zdrowia czy funkcjonowanie sklepów pierwszej potrzeby, musieliśmy działać bez przestoju - wskazywała Gutowska.
- Transport publiczny wyjdzie z pandemii obronną ręką. Być może to wciąż śmiała teza, ale coraz więcej faktów za tym świadczy. Komunikacja zbiorowa ma do odegrania swoją rolę w dźwignięciu całej gospodarki, bo jak mało która branża ma znaczenie dla wszystkich obszarów funkcjonowania biznesowego i społecznego. Według Światowego Forum Ekonomicznego 1 dolar zainwestowany w rozwój transportu publicznego to 5 dolarów dla gospodarki - to może być dźwignia także w przypadku polskich regionów - zaznaczał zastępca dyrektora ds. handlowych Zarządu Transportu Metropolitalnego Andrzej Stangret.
Gdyby nie szybko i celnie podejmowane decyzje po stronie Zarządu Transportu Metropolitalnego, między innymi powołanie sztabu kryzysowego, straty byłyby wielokrotnie większe, nie tylko po stronie kosztów operacyjnych, ale także przychodów z biletów. - Stanęliśmy rzeczywiście przed wielkim wyzwaniem. Ponad 1000 zmian rozkładów jazdy w ciągu roku, przestrzeganie rygorystycznych procedur bezpieczeństwa dla pasażerów i personelu, konieczność zapewnienia ciągłości finansowania strategicznych inwestycji oraz kampanii informacyjnych dla pasażerów to były działania, które musieliśmy uruchamiać w trybie natychmiastowym. Trudne czasy rodzą silne zespoły, więc to wszystko już teraz procentuje - podkreślała dyrektor Zarzadu Transportu Metropolitalnego Małgorzata Gutowska.
Trudne okoliczności kryzysu gospodarczego i ograniczonej mobilności wywołały także, paradoksalnie, pozytywne zmiany. - Przyspieszenie digitalizacji sprzedaży usług i obsługi pasażera - takie jak zwiększenie funkcjonalności aplikacji mobilnej, uruchomienie elektronicznego Punkty Obsługi Pasażera trafiają dokładnie w oczekiwania podróznych i wyznaczają trendy w całej branży. W ZTM przykładamy wielką wagę, by oferować wszystkie najnowsze narzędzia naszym klientom - dodawał Andrzej Stangret. ZTM w najbliższych miesiącach planuje poszerzanie siatki połączeń o kolejne metrolinie, które są nowym produktem w ofercie największego w Polsce organizatora transportu. - Ponad 17 milionów wozokilometrów, które oddajemy naszym pasażerom to tyle, ile Lublin wykonuje w ciągu całego roku. W ZTM stawiamy na rozbudowę oferty, bo to najlepszy sposób na powrót stałych klientów i pozyskanie nowych - dodała dyrektor ZTM Małgorzata Gutowska. 
Przedstawiciele łódzkiego ZDiT oraz gdyńskiego ZKM także podkreślili, że jedynym skutecznym modelem dla rozwijania nowego modelu transportu publicznego jest konsekwentne i ciągłe prowadzenie inwestycji o charakterze strategicznym. - Kryzys nie powinien w żaden sposób odbić się na skali inwestycji. Jeśli chcemy przekonać pasażerów do powrotu do korzystania z komunikacji zbiorowej musimy zapewnić im stały poziom usług i rozwiązania dopasowane do ich potrzeb, dlatego bardzo mocno stawiamy na pozyskiwanie środków ze środków europejskich - podkreślali goście debaty.
Zapis całej debaty w ramach Kongresu Polityki Miejskiej można obejrzeć poniżej.
News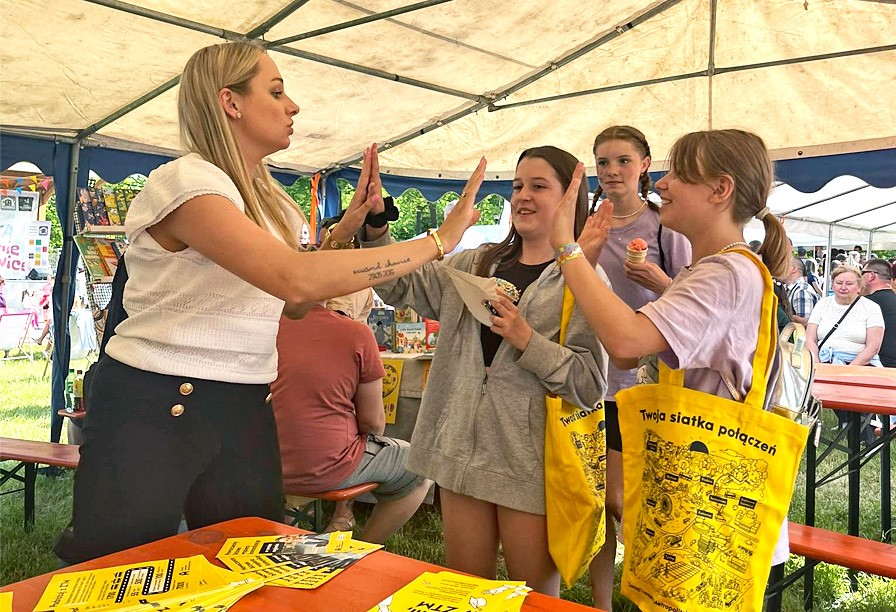 Nasze stoiska z drobnymi upominkami dla dzieci będzie można spotkać aż w czterech miastach, od 1 do 4 czerwca.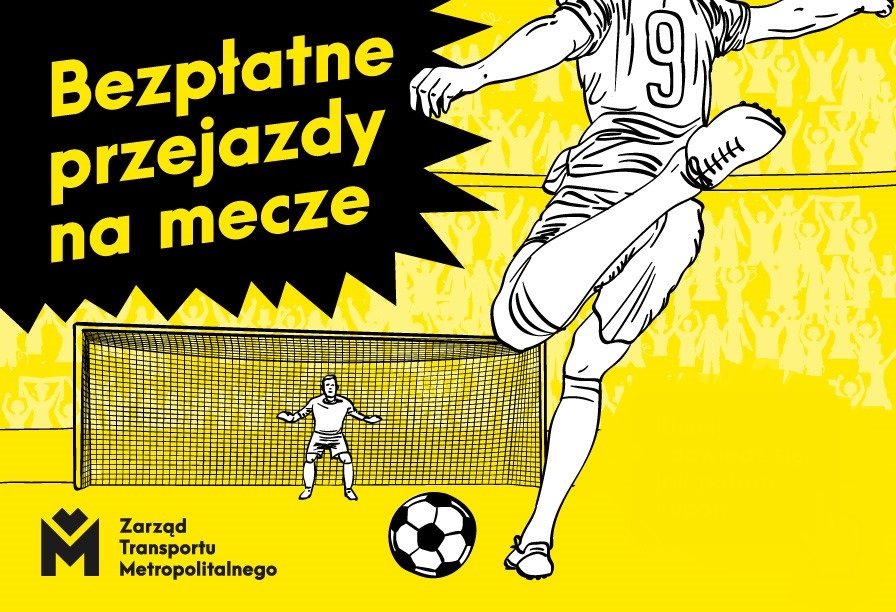 The persons watching two matches played at the ArcelorMittal Park in Sosnowiec will be able to use for free the ZTM transport on the day of the game.