Powstaną autobusowe linie metropolitalne. Usprawnią podróżowanie po GZM. Stan na 24 III
Publication date: 26.02.2021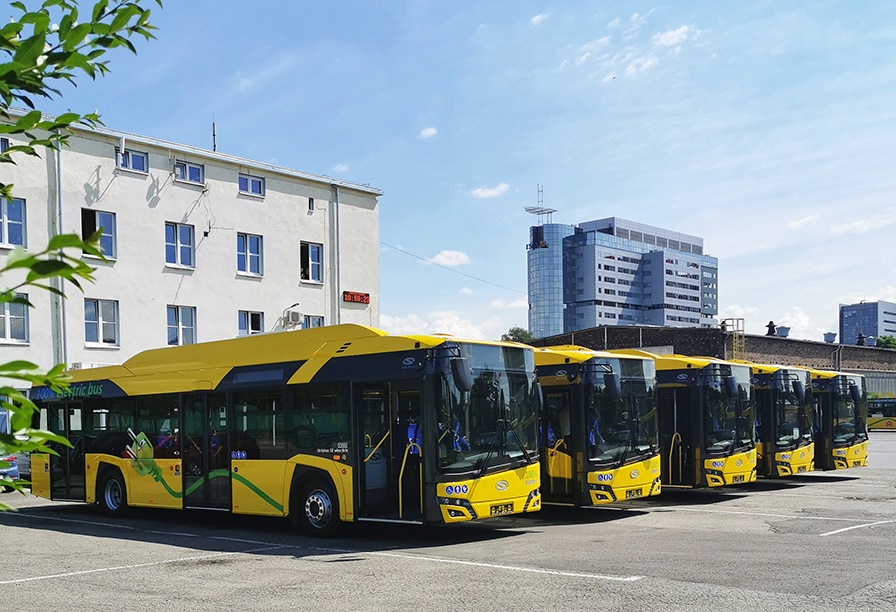 Stan na 24 III: System 30 połączeń autobusowych ZTM, dzięki którym będzie można łatwiej przemieszczać się między gminami i miastami – to autobusowe linie metropolitalne, które mają być uruchamiane tydzień po zakończeniu lockdownu. Metropolia przedstawiła uzgodniony przebieg połączeń.
Celem autobusowych linii metropolitalnych jest wzrost oferty transportu publicznego w GZM. Prace nad metroliniami rozpoczęły się na przełomie marca i kwietnia 2020 r. Ponad rok trwały konsultacje i ustalenia z prezydentami, burmistrzami i wójtami na temat przebiegu linii metropolitalnych. Dużym wyzwaniem było zweryfikowanie oczekiwań samorządów pod kątem możliwości ich obsługi.
Metropolia zaprezentowała uzgodniony przebieg połączeń już 25 lutego, jednak z zaznaczaniem, że cały system będzie się wpisywał w mechanizm "samodoskonalenia". Co 6 miesięcy Metropolia będzie dokonywała analizy połączeń z wykorzystaniem m.in. nowego systemu liczenia pasażerów, który pozwoli na uzyskanie pomiarów nawet z 99 proc. dokładnością. W tej chwili trwa postępowanie przetargowe na wybór wykonawcy tego systemu. Wszystkie zbierane uwagi będą na bieżąco weryfikowane i zmiany będą dokonywane tam, gdzie będzie to najbardziej potrzebne. Taka forma pozwala na znacznie lepsze dopasowanie siatki połączeń niż jednorazowe konsultacje.
Propozycje dotyczące zaprezentowanych przebiegów metrolinii można zgłaszać na adres:  metrolinie@metropoliagzm.pl. W celu dalszego doskonalenia tych połączeń, Metropolia planuje również zbudować narzędzie online z wykorzystaniem geoankiet. Odbędą się również spotkania z mieszkańcami, podczas których przeanalizowane zostaną zgłoszone sugestie.
Jak będą działać metrolinie?
Autobusy będą kursować pomiędzy największymi ośrodkami transportowymi – tam, gdzie leżą główne ciągi komunikacyjne. Pierwsze z nich, tzw. linie podstawowe, będą uruchomione tydzień po zakończeniu lockdownu. Linie będą często obsługiwać duże miasta, charakteryzujące się znacznymi potokami pasażerskimi. W kolejnym etapie, planowanym do uruchomienia w połowie tego roku, wyjadą linie uzupełniające, integrujące obszary Metropolii. W ostatnim z etapów wyjadą na trasy linie, których celem będzie zwiększenie dostępności do wszystkich wcześniej wprowadzonych metrolinii.
Linie metropolitalne zwiększą dostępność komunikacji publicznej, ponadto będą w zasięgu pasażerów, dzięki innym, uzupełniającym połączeniom – ich częstotliwość zostanie dostosowana do oczekiwań klientów.
Warto podkreślić, że priorytetem dla GZM w zakresie komunikacji publicznej nadal pozostaje transport szynowy (połączenia kolejowe i tramwajowe), a jego uzupełnienie stanowi komunikacja autobusowa i trolejbusowa. Metrolinie mają poprawić dostępność komunikacyjną w Metropolii do czasu, aż powstanie sztandarowy projekt GZM, czyli Kolej Metropolitalna.
Proponowany przebieg linii metropolitalnych
Linie będą wprowadzane w trzech etapach do obecnej sieci transportowej GZM:
ponad 30 linii oznaczonych symbolem M.
22 linii podstawowych i 9 linii dowozowo-odwozowych.
Termin zamknięcia realizacji – grudzień 2021 r.
I etap projektu, tydzień po zakończeniu lockdownu. Linie o numerach:
M1 Katowice, Chorzów, Świętochłowice, Ruda Śląska, Zabrze, Gliwice.
M2 Katowice, Sosnowiec, Dąbrowa Górnicza.
M3  Katowice, Bytom, Chorzów, Tarnowskie Góry
M4 Katowice, Sosnowiec
M18 Gliwice, Gierałtowice, Mikołów, Tychy.
M24 Katowice, Chorzów, Świętochłowice, Ruda Śląska, Zabrze.
AP Katowice, Ożarowice (Port Lotniczy).
II i III etap wdrażanego projektu, do końca 2021 r. :
Linie o numerach: M10, M11, M12, M13, M14, M15, M16, M17, M19, M20, M21, M22, M23, M25, M26, M100, M102, M103, M104, M105, M106, M107, M108.
Cały czas trwają prace konsultacyjne. Nie wykluczone jest wprowadzenie kolejnych zmian w tym projekcie.
Załączona prezentacja dotycząca metrolinii zostanie wkrótce zaktualizowana o informację dot. częstotliwości kursowania w okresie międzyszczytowym.