Obsługa pasażerów w dobie koronawirusa [Aktualizacja: 8 IV]
Publication date: 30.04.2020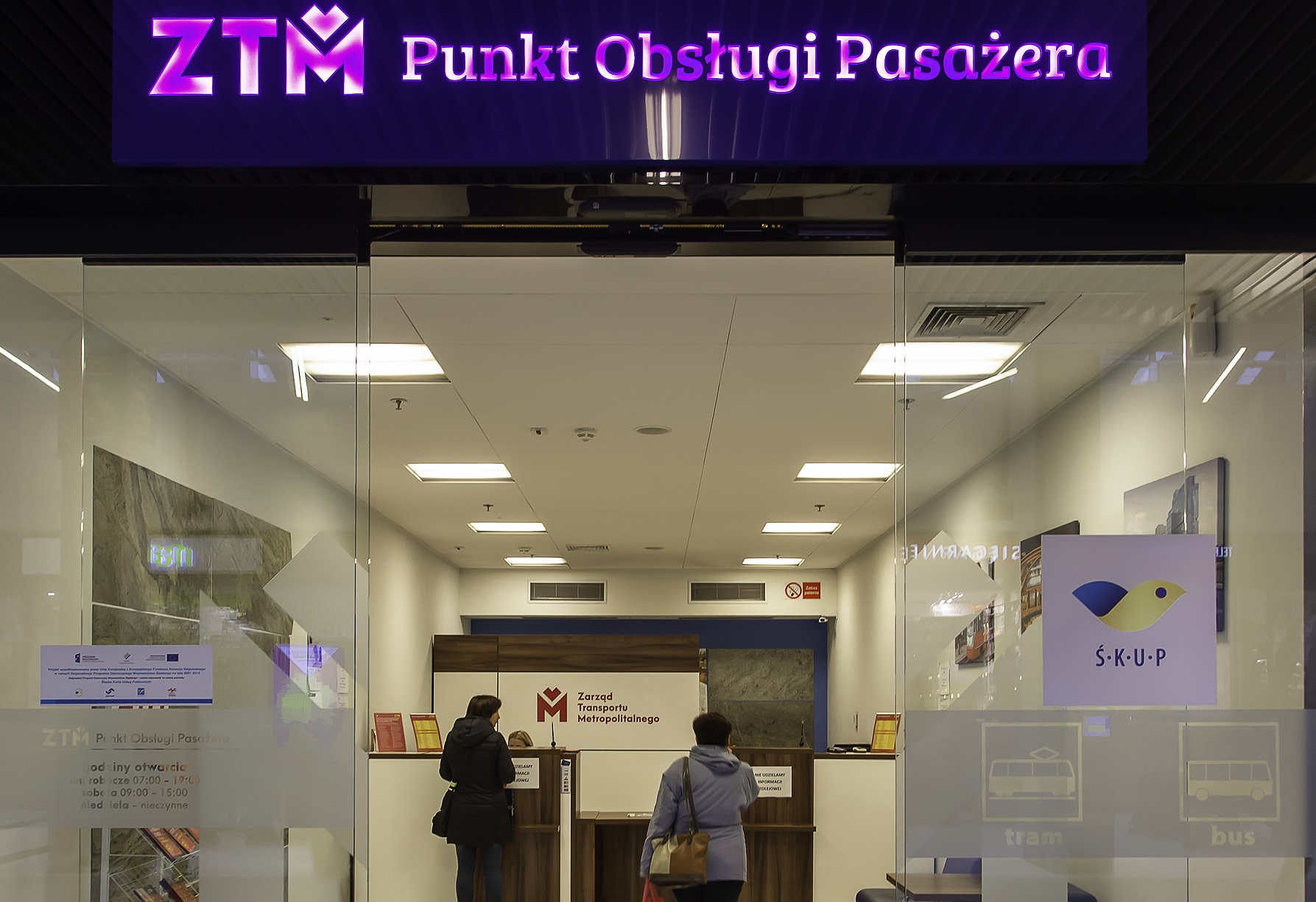 W trosce o podróżnych oraz pracowników organizatora transportu, wprowadziliśmy wiele zmian w zakresie obsługi pasażerów. Poniżej przedstawiamy najważniejsze informacje.
1. Zakup biletów i Punkty Obsługi

Kancelaria Zarządu Transportu Metropolitalnego przyjmuje interesantów. Zalecane jest jednak przekazywanie korespondencji przez kontrahentów ZTM za pomocą poczty tradycyjnej lub elektronicznej na adres kancelaria@metropoliaztm.pl lub za pośrednictwem platformy ePUAP (/METROPOLIAZTM/SkrytkaESP). Dokumenty można również składać do wystawionej przy portierni skrzynki podawczej (w takim przypadku wpływ korespondencji nie zostanie potwierdzony).
Bilety można kupić w automatach biletowych, przez internet (Portal Klienta), w Punktach Obsługi Pasażera, punktach sprzedaży, przez aplikacje mobilne: SkyCash, mPay, moBilet, jakdojade, zbiletem.pl oraz Mobilny ŚKUP.
Zachęcamy do zakupu biletów drogą elektroniczną i w automatach biletowych, w których za bilety i doładowania można płacić kartą zbliżeniowo. Lokalizacja automatów biletowych dostępna jest tutaj.

POP
Punkty Obsługi Pasażera funkcjonują bez zmian. Jest to możliwe dzięki szeregowi działań podjętych w trosce o bezpieczeństwo pasażerów. Lista lokalizacji Punktów Obsługi Pasażera znajduje się tutaj.
Zachęcamy do korzystania z uruchomionej platformy e-POP dostępnej na naszej stronie internetowej https://www.metropoliaztm.pl/pl/s/e-pop. Dzięki niej można sprawniej korzystać z naszych usług. Dodatkowo internetowy POP to rozwiązanie odpowiadające na nowe potrzeby związane z bezpieczeństwem pasażerów w czasie pandemii.
2. Zwrot biletu
Pasażer może ubiegać się o zwrot aktywnego biletu jedynie w Punktach Obsługi Pasażera. Ich lokalizacja została wskazana na stronie internetowej ZTM w zakładce Punkty Obsługi.
3. Reklamacje, skargi
Skargi i reklamacje można zgłaszać:
4. Odbiór kart ŚKUP
Karty ŚKUP można odbierać w Punktach Obsługi Pasażera. Można je również zamówiać przez Portal Klienta pod wskazany adres.
5. Wezwanie do zapłaty (mandat) i inne sprawy związane z windykacją

Uprzejmie informujemy, że wpłat z tytułu opłat dodatkowych (mandatów) należy dokonywać na numer konta bankowego Santander Bank Polska 45 1090 1186 0000 0001 3708 1372. W tytule przelewu proszę podać numer opłaty dodatkowej lub imię, nazwisko oraz adres osoby, której sprawa dotyczy.
Można zwracać się z prośbą o rozłożenie długu wobec Zarządu Transportu Metropolitalnego na raty. W związku z powyższym podajemy informację, jakie dane pasażera muszą się znaleźć w podaniu, aby mogło zostać ono rozpatrzone:
imię i nazwisko,
adres,
pesel,
treść podania (można podać na ile rat i do którego dnia miesiąca będą wpłaty).
Zalecanym kontaktem z Wydziałem Windykacji ZTM jest droga e-mailowa (adres: kancelaria@metropoliaztm.pl).
6. Komunikacja autobusowa, tramwajowa i trolejbusowa
W pojazdach komunikacji miejskiej może być zajmowane 100% wszystkich miejsc siedzących i stojących.
Informacje na temat wprowadzonych zmian w funkcjonowaniu komunikacji miejskiej zamieszczane są na bieżąco na naszej stronie internetowej w zakładce "Aktualności" - "Komunikaty".
7. Sprawdzanie rozkładów jazdy

W związku ze stanem epidemii oraz wprowadzanymi w sposób dynamiczny zmianami w komunikacji miejskiej, zachęcamy do tego, aby rozkłady jazdy sprawdzać na stronie internetowej.
8. Ważność dokumentów uprawniających do ulg
W związku z obowiązującymi ograniczeniami, wydłużeniu uległa ważność niektórych dokumentów, uprawniających do przejazdów bezpłatnych lub ulgowych:
orzeczenia o niepełnosprawności oraz orzeczenia o stopniu niepełnosprawności, wydane na czas określony, zachowują ważność do upływu 60. dnia po zakończeniu stanu epidemii lub stanu zagrożenia epidemicznego, chyba że wydano nowe orzeczenie;
orzeczenia o niezdolności do pracy oraz o niezdolności do samodzielnej egzystencji, książeczki inwalidy wojennego (wojskowego), legitymacje osoby represjonowanej, oraz legitymacje emeryta - rencisty, których ważność upływa w okresie trwania stanu epidemii lub zagrożenia epidemicznego lub w okresie 30 dni po ich zakończeniu, zachowują ważność przez okres 3 miesięcy od upływu terminu ważności, w przypadku złożenia wniosku o ustalenie uprawnień do świadczenia na dalszy okres, przed upływem ważności aktualnego dokumentu.
9. Obowiązek zakrywania ust i nosa
Ministerstwo Zdrowia zniosło obowiązek zakrywania ust i nosa w pojazdach komunikacji miejskiej.
10. Podsumowanie podjętych przez ZTM działań zapobiegawczych rozprzestrzenianiu się koronawirusa:

mycie pojazdów przeprowadzane przez operatorów ze szczególną dokładnością,

wzmożona kontrola czystości pojazdów,

zalecenie automatycznego otwierania wszystkich drzwi (już przywrócone zostały działania tzw. ciepłych guzików),

okresowe zawieszenie sprzedaży biletów przez kierujących w pojazdach (ponowne dopuszczenie w pojeździe tzw. stref ochronnych),

realizacja akcji informacyjnej (plakaty w pojazdach dot. koronawirusa, media społecznościowe),

dodatkowe czyszczenie automatów biletowych,

tymczasowe zamknięcie POP (punkty już otwarto),

regularna obsługa przystanków "na żądanie" (przystanki te już są obsługiwane przy użyciu tzw. ciepłych guzików),

dodatkowe wietrzenie pojazdów (zwłaszcza na przystankach początkowych i końcowych),

analiza frekwencji pasażerów na poszczególnych liniach,

zmiany w liczbie połączeń na liniach autobusowych, tramwajowych i trolejbusowych,

przygotowanie w ramach akcji edukacyjnej (została już zakończona) wywieszek na siedzenia w pojazdach, które wskazywały, jak zajmować miejsca,

przygotowanie plakatów, które zawisły przy drzwiach pojazdów i które informują, ile osób może jednocześnie przebywać w danym pojeździe,

całkowite wyłączenie mechanicznych układów wentylacji, ogrzewania, chłodzenia i klimatyzacji, pobierających powietrze w obiegu zamkniętym (18 czerwca 2020 r. odwołane zostało zalecenie dot. całkowitego wyłączenia układów klimatyzacji, chłodzenia i wentylacji),

odblokowanie okien w przestrzeni pasażerskiej.
Przepraszamy za wszelkie niedogodności. Są one niezależne od ZTM, a wprowadzone zmiany mają na celu ograniczenie ryzyka zakażenia koronawirusem. Prosimy o wyrozumiałość.
News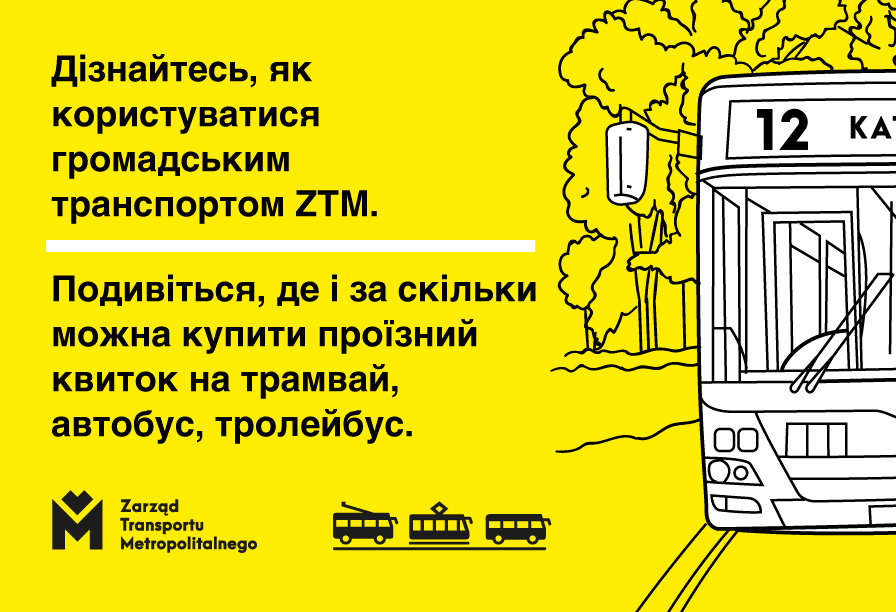 The possibility to use the urban public transport for free for citizens of Ukraine, who crossed the border in February, ends on the 31st of May. Already now we suggest, where you can buy a ticket and how to use the urban transport of the Metropolitan Transport Authority (ZTM).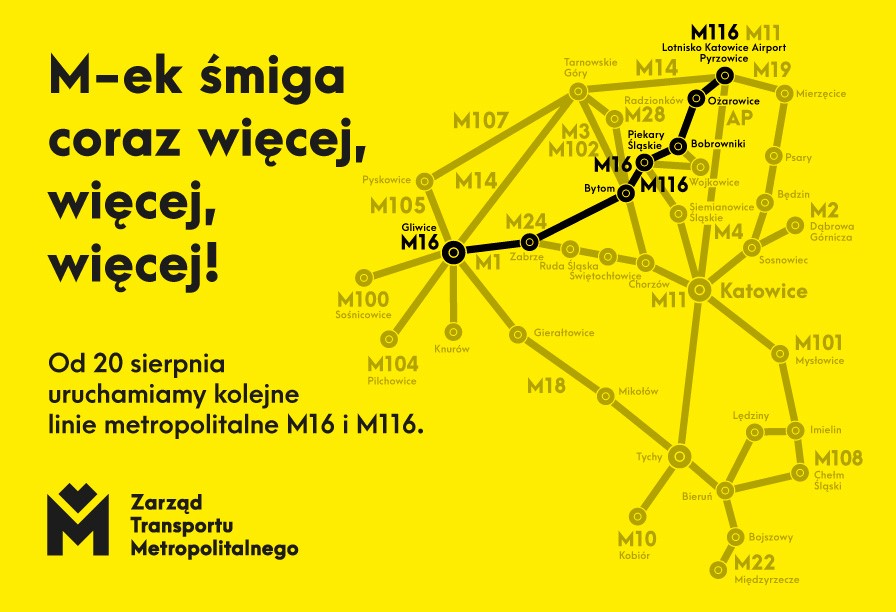 On the 20th of August buses of a new metropolitan line will appear on the Metropolis streets. Line M16/M116 will connect Gliwice and Zabrze with Bytom, Piekary Śląskie, municipality of Bobrowniki, and the Airport in Pyrzowice. The line will be operating all the week and round-the-clock.